GRAMMY® Award winners Apollo's Fire and Jeannette Sorrell are poised to launch a semi-annual Chicago-area residency. On March 12th, 2020, they will begin with O Jerusalem! – Crossroads of Three Faiths, a groundbreaking program that evokes ancient Jerusalem through music and poetry.
In anticipation of their upcoming performance, several of the musicians wanted to take the opportunity to share their stories.
"As we celebrate the rich and diverse cultural heritage of Jerusalem, several of our musicians with Jewish and Middle Eastern roots have chosen to share their family immigration stories with you."
—Apollo's Fire

---
DAPHNA MOR, recorder and ney

Like most people of Jewish heritage today, I come from a family of immigrants and refugees.  My mother's family fled from their homeland, Bulgaria, during WW2 to escape the Nazis. They did so by taking trains through the Balkans, Turkey, Syria and Lebanon. Miraculously they all arrived safely in the Middle East. My father's family was less fortunate.  His parents met in Germany in 1945 in a Displaced Persons camp established by the U.S and the United Nations. Having lost nearly all of their family members, both of them were alone and had nowhere to go. The Americans settled them in an apartment in Regensburg, Germany.  And there my father was born. I often think of their years in Germany – living among the Germans including former Nazis… not knowing where they would end up, trying to rebuild their broken lives. Once Israel became established, they emigrated there.

Unlike my grandparents, I am an immigrant by choice – an Israeli and American citizen who had the privilege to choose her new country and to follow the passion of being a musician. This is not true for millions of refugees and immigrants around the world today, and each one has their own unique story. Please have them in your minds and hearts while listening to our music.
---
RENÉ SCHIFFER, cello and viola da gamba

I suppose you all have noticed for a while that I am an immigrant.  What you may not know is that my father is a Hungarian Jew.  He and his family were very lucky not to be deported by the Nazis in WW2.  But of course hundreds of thousands of Hungarian Jews – including three of my dad's four grandparents and many of his friends – were killed in the Holocaust.  So after the war, my father and his older brother decided to go to Israel.  They were teenagers, and both were serious classical musicians heading towards professional careers in chamber music.  After two years in Israel (1949-50), they saw that there were not yet enough opportunities in Israel for classical musicians.  So they returned to Hungary…  communist Hungary.  
Six years later, they escaped the Iron Curtain under cover of night, on foot – during the Hungarian Revolution of 1956.  A boy in their group almost froze to death while crossing a semi-frozen canal.  But they kept going and miraculously made it across into Austria.  As the Hungarian refugees poured into Vienna, many countries (including the U.S.) welcomed them.  My father and uncle chose for the Netherlands.  The Dutch government provided a bus to take them to Holland.  They both became prominent Dutch musicians – they played in the Haydn Quartet (originally called the Dekany Quartet) which can be heard on many recordings, including the complete Haydn string quartets.
---
SUE YELANJIAN, contrabass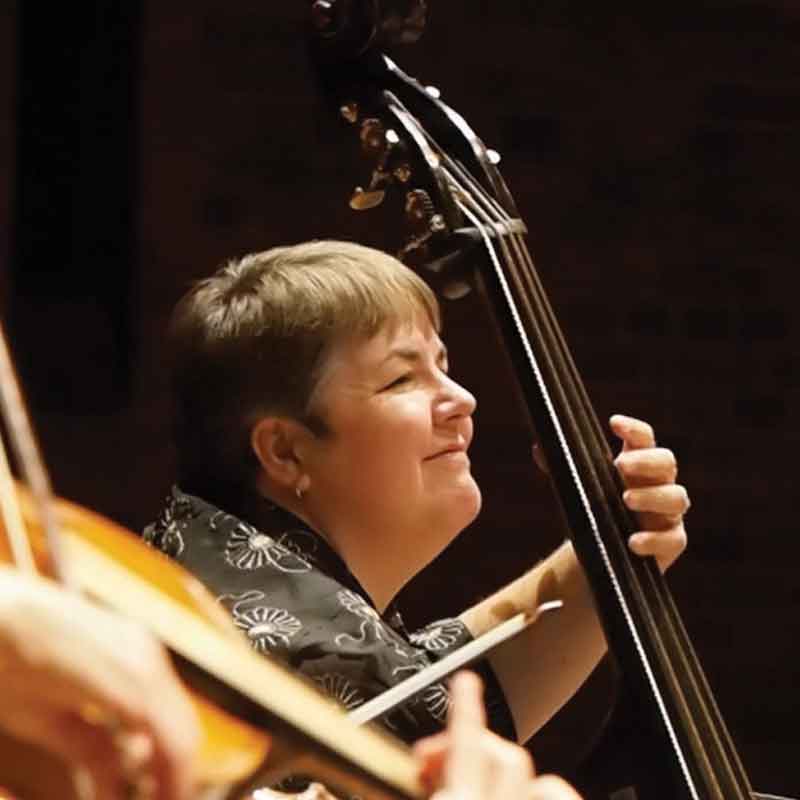 My grandfather, O'Wagon Yelanjian, fled Turkey as a teenager around 1908 to escape the massacre of Armenians in Turkey.  He came alone, and was sponsored by a stranger. During WW1 he served in the U.S. Army.  After the war, my grandfather's sponsor in Wisconsin wanted his Armenian fiancée to emigrate to the U.S.  She wouldn't come without her best friend… and that was my grandmother, Angele Djivelekian. She married my grandfather without knowing him.  She was from Constantinople and brought her oud with her.  I recall her playing it for me, using a feather to strum the strings.  They went on to have two sons. When those children (my father and uncle) started elementary school, they knew no English.  As a reaction to his difficult early school years, my father didn't teach us to speak Armenian.  However, my grandparents lived next door and there was a large population of Armenians in the area who formed a community. This colored and enriched my early years.
---
JEANNETTE SORRELL, founder and artistic director

I have always been proud to be the daughter of an immigrant. But only recently have I begun to understand just how proud I should be.  When my father came to the U.S. at the age of 27, he already knew about 4-5 languages – but English was not one of them. Though he had been a journalist and translator in Europe, he quite willingly took some clerical and menial jobs in his first year in America. He worked briefly in a shoe store, a deli, and as an elevator operator. But within 5 years, he had mastered English so well that he was working as a journalist again – this time for an arts and culture newspaper in San Francisco.  
Eventually he met my mom, a 22-year-old nurse from a small Midwestern town.  She did not know much about Europe or the horrors of World War II. She did not realize that this young European man, who spoke so passionately about theatre, literature, and opera, but would not say much about his past – was Jewish. (And her family would probably not have approved, if they had found out.). But she had incredible intuition. She knew that he was a profoundly good person.  And so… she married him.  
Like many immigrants, my father then went to night school while working full time to support his young wife and baby.  He sped through graduate school in record time, earned a Ph.D., and became a professor. He instilled in our little family a love of history, literature, and the arts.  It took 50 years and DNA testing, plus an encounter at Carnegie Hall, for us to find out that he is Jewish. But that's another story.
If the U.S. government in 1957 had not welcomed immigrants, or if my mom had not been willing to trust a foreigner… I would not be here today.  And neither would Apollo's Fire.