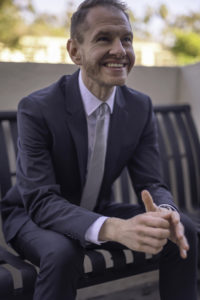 California-based composer-pianist Jeremy Siskind has written a major new suite for piano: Perpetual Motion Etudes for Solo Piano, combining jazz harmony and complex textures.
Highly virtuosic and athletic, the suite seamlessly combines classical and jazz aesthetics, boldly conjuring the spirits of great composers like Kapustin, Gershwin, Gismonti, Hersch, Hancock, Corea, and Mehldau.  Playful, romantic, thoughtful, and personal, these Perpetual Motion Etudes present an ambitious journey through modern piano music. 
---
[1] An album:
Recorded at the Yamaha Artist Salon in New York City, the album will be released on the Outside In Music label  on March 30th, 2020.
Recorded on a Yamaha CFX, a nine-foot concert grand, and funded through a successful Kickstarter campaign, the album features nine new compositions.
Physical and digital distribution for Perpetual Motion Etudes for Solo Piano is through the Outside in Music label, and is available through all major music platforms. The album was engineered by Aaron Ross, and mastered by Joe Patrych.
---
[2] An accompanying book of sheet music:
Self published by Siskind and edited by concert pianist Spencer Myer, the book is now available for sale in both hard copy and PDF versions at jeremysiskind.com.
Each piece is presented in a through-composed version designed for classical pianists plus additional instructions for each piece intended for improvisors.
---
[3] A concert tour from MARCH 15 – April 9:

Siskind will debut Perpetual Motion Etudes in the US.
From March 19th onward, he will be joined by, and performing with, GRAMMY®-winning pianist Angelin Chang.
※ Orange County: March 15, 2020, 5 pm,
Wilshire Auditorium
315 E Wilshire Ave, Fullerton, CA

※ Cleveland: March 19, 2020, 7:30 pm,
Drinko Recital Hall, Cleveland State University
2001 Euclid Ave., Cleveland, OH

※ Fort Wayne: March 20, 2020,
Sweetwater Performance Theater
5501 US-30, Fort Wayne, IN

※ Kalamazoo: March 21, 2020,
Kalamazoo College
200 Academy Street, Kalamazoo, MI

※ Chicago: March 22, 2020, 7:00 pm,
PianoForte Chicago
1335 South Michigan Ave., Chicago, IL — Free admission

※ New York: March 25, 2020, 7:00 pm,
Weill Hall at Carnegie Hall
154 W 57th St., New York, NY — Tickets are $35 online via Carnegie Hall

※ Philadelphia: March 27, 2020, 7:30 pm,
@exuberance
1220 N Mascher St., Philadelphia, PA

※ Natick: March 28, 2020, 7:30 pm,
Falcetti Pianos
579 Worcester St., Natick, MA

※ Los Angeles: April 9, 2020, 9:00 pm,
Blue Whale
123 Astronaut Ellison S Onizuka St. #301, Los Angeles, CA — $25 admission
See a full list of performance and teaching dates here.
---
Siskind says, "I'm a bit obsessed with finding the most orchestral, diverse, and innovative ways to use the piano. Each piece represents a journey into the outer limits of the possibilities of the piano." He goes on to define 'perpetual motion' as having "the pianist's left hand and right hand work in tandem to fill in any space left by the other – the ceaseless music fits together like gears in an infernal clock." The impetus for the music came by way of combating anxiety, and to compose through concentration and flow; to be present, expressive, and fluid through the piano.  "Although these pieces can't eliminate [self-negativity], they effectively 'force' the issue because they're written in perpetual motion. There are no rests or breaks between the two hands, which fit together precisely, like the blocks in a well-played game of Tetris or like two dancers dancing intricate steps in a tight space." 
---
For more about Jeremy Siskind, please visit jeremysiskind.com