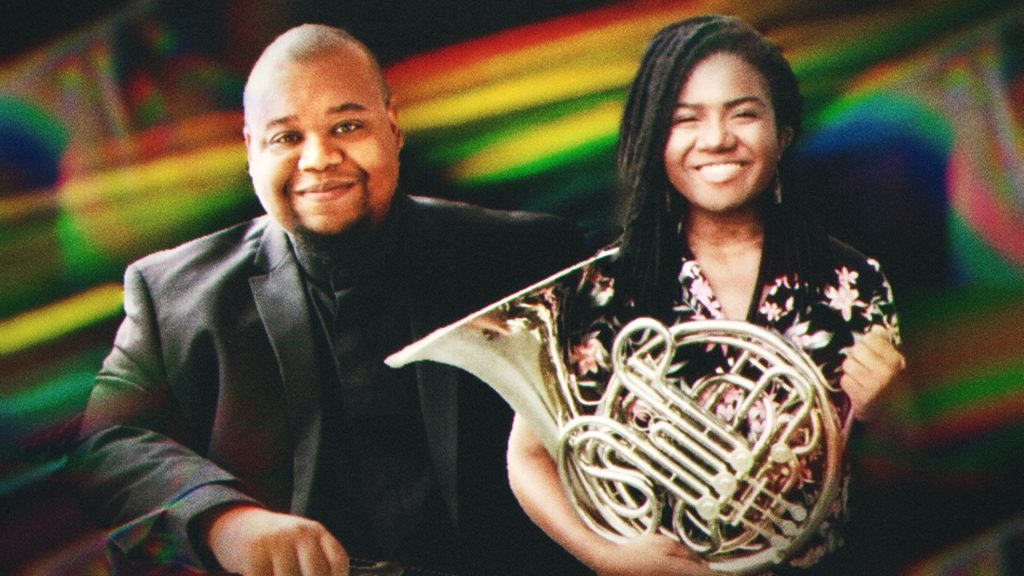 Poised for the upcoming Lakeside Pride presentation Sweet Home Chicago on May 29th, composers Christen Taylor Holmes and Evan Williams will premiere brand new commissions in honor of historic figures.
In two separate sit-down conversations, both composers were kind enough to share about their lives, musicianship, thoughts on their respective pieces, and what it's like to be part of this 40th annual Pride Bands Alliance Conference.
---
EVAN WILLIAMS
Premiering THE WORK 'LoVE WORDS, MAD WORDS'

I'm in Memphis, and I'll soon be moving to Boston as I'll be teaching at Berklee College of Music this fall. But I'm originally from Chicago.

I started with music in fifth grade on trombone. Band has always been a part of me, and eventually I got interested in both conducting and composing. Throughout college, I continued to play trombone, and for a while I was a music education major, because I thought I wanted to be a high school band director. But at a certain point, I felt that I didn't want to work with kids every day. So I switched over to being a full time composition major, but I've continued to play in bands and orchestra whenever I can.

My friend Lee Hartman, who was the head of the commissioning project with Lakeside Pride introduced me to Sweet Home Chicago. I didn't have too much time to write the piece, so I started from something I previously wrote: a song cycle for countertenor, who was also based in Chicago. When I got asked to write the commission, I drew on my first song from that cycle, and expanded it into this larger piece at about eight or eight and a half minutes. It's one of those works that I only have performed once, and not even to full performance. So I thought that Sweet Home Chicago would be a way to give new life to that—at least that first movement.

The cycle is called Love Words, Mad Words—and that title comes from a line from the poem "Romance" by Claude McKay. "Love words, mad words, dream words, sweet senseless words; melodious like notes of mating birds."

Claude McKay, photo by Carl Van Vechten

I originally came across McKay's writings by searching for Black poets from the Harlem Renaissance. I hate to say it, but all I knew previously was Langston Hughes. And Hughes is notoriously hard to get rights for. In fact, I did get rights for a poem of his that I wrote for another Chicago based ensemble, Quince, but it took almost a year. And so for this commission I needed something that at least was in the public domain.

Interestingly, half of Claude McKay's poems are in the public domain. I really was drawn to these poems, and to his life: McKay was a Harlem Renaissance poet who spent his last years in Chicago, who was also bisexual, and who I feel like I have a lot of things in common with. Like him, I'm also bisexual — it's something I've been embracing over the last four or so years. And that's another reason why I was drawn to McKay, and also that he was very politically left like I am. So for a lot of reasons, I thought, "Wow, I should get to know the works of this person."

Although McKay's not the most visible of the Harlem Renaissance poets, I still think he is very well known and loved. One of his most famous poems is "If We Must Die", and it's quoted a lot. One day, I was watching Judas and the Black Messiah—it takes place in Chicago, and it's about the Chicago Black Panthers—and they're just yelling the poem. I thought "Wait a minute. That's Claude McKay!"

Love Words… is probably the sixth or seventh band piece that I've written. What was different about this though, is I've never written for a conference. They'd asked me to include a lot of instruments that I've never written for before. So, I wrote for alto clarinet and concert bass clarinet, and all different types of clarinets, and at the time, I didn't yet know what transposition they play in.

I'll be at least one rehearsal, and then I'll be at the performance. I am excited to hear it soon, as there's going to be a lot of people playing this piece at the concert!
---
I'm 21, and from Maryland. I'm from a very small town called Saint Leonard in Calvert County. Very rural, not much to do around there, an hour or so south from the Baltimore/DC area, I go to University Maryland in College Park, Maryland and I plan on graduating in the Spring of 2023. And I hope to go to school for film scoring. 

I've been into music from a really young age. My parents are musicians—not professionally, but interested in music since they were really young, and they still play. My mom plays piano, my dad plays saxophone, and they do church gigs every now and then. So, for me and my older sister who plays violin—it was expected of us to do music.

Around third grade, they kind of gave the option to choose an instrument, and because my mom wanted me to play violin like my sister, and I wanted to be different, I chose trumpet, and played that for a couple of years. Some time in middle school, my band director suggested for me to switch to French horn. So when I was 13, in 8th grade, I started to get more serious, I was devoted to practicing, and I was thinking maybe I should take lessons, and get into music school. 

When I first talked to Melissa Terrell from Lakeside Pride about this commission, where she wanted to go with the piece,  I asked her if she had any requests or specific notes. And she suggested to have some sort of connection to Chicago, or some sort of reference to Chicago. And I don't really know anything about Chicago, because I've just lived in Maryland my whole life. (laughs)

Miss Major Griffin-Gracy, photo by Mickalene Thomas

This concert will be my first time in Chicago, and I'll be traveling with my sister for the event, and then my parents are going to be flying in for the concert day. The only time I'd been to the Midwest was to Detroit a few times. So in researching for the piece, I looked up Chicago Pride specifically and Queer History in Chicago. And then I found Miss Major Griffin-Gracy.

She was a Trans activist from Chicago, and a part of the Stonewall Riots. I think that was really interesting because we talk so much about Marsha P. Johnson. I kind of feel like that's kind of the 'staple name' for that time period in Trans activism, but it's important to know other names too. That was the thing that clicked, the spark of inspiration for the piece. I thought, "Oh! That's a pretty unique name. I feel like I don't really see that often." And it's symbolic. A mythological griffin is symbolic for bravery or strength.

This is my second time writing for a band. I'm most used to writing for chamber works, so it's definitely challenging in terms of keeping track of all of the lines and staves, all the little moving parts, engraving, and technical things can be a bit difficult. But sometimes, in terms of writing the music I almost find it easier. Because I really like creating warm harmonies and textures, and that's easier to do with more instrumentation. I have an advantage because I've played in band for so long. I was one of those students who wanted to overachieve in music, especially because my music programs in high school and middle school weren't well-funded. I just wanted to do as much as I could: take lessons, do honor bands, and marching band.

Griffin runs little over seven and a half minutes. I knew I wanted the piece to be celebratory, more lighthearted and upbeat. I wanted to convey this duality; to have some sort of contrast of this bravery, and this strength, and kind of this more grandiose element, and then the opposite of this kind of more slower, somber element. Overall, my goal was to not only represent the griffin as a mythological creature, but also this other symbolic side. How does this relate to Queerness, and can I as a Queer person be powerful and be uplifted? And how can I deal with these moments that are also more serious, and struggles. 

I was definitely very excited about the opportunity in general, to be able to attend this conference, and to write this piece. I know it's a Queer organization, and I thought, "Oh! This is really cool!" But now that I'm actually thinking about it, I'd say that it means a lot, because I definitely—along with many other Queer people—have struggled with internalized and external homophobia. So being recognized not only as a musician, but a Queer musician, is definitely really important.

It's important that people are able to see what I can do—that Queer people are able to see what I can do.
---
For more about Lakeside Pride's Sweet Home Chicago, click here.
Or visit sweethomechicago2022.org where you may also purchase tickets.