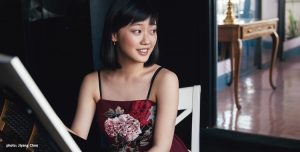 September 22nd Concert features works by Chopin, Mozart, Rachmaninoff, and Schumann.
"In her mid-20s, she is one of the most engaging and promising rising stars in the musical firmament."   -Times Herald-Record
Internationally acclaimed classical pianist Fei-Fei will perform the inaugural concert of the 2018-2019 Season of Classical Palm Springs on Saturday, September 22nd at 7:30pm at Temple Isaiah, 332 West Alejo Road, Palm Springs California. The 2018-2019 season of Classical Palm Springs is produced by James Luce.
Praised for her "bountiful gifts and passionate immersion into the music she touches" (The Plain Dealer), Chinese pianist Fei-Fei (pronounced "fay fay") is a winner of the Concert Artists Guild Competition and a top finalist at the 14th Van Cliburn International Piano Competition. She continues to build a reputation for her poetic interpretations, charming audiences with her "passion, piquancy and tenderness" and "winning stage presence" (Dallas Morning News).
This concert will also feature visual art by Rancho Mirage modern artist Nicholas Kontaxis, who creates large-scale abstract paintings, characterized by a riot of primary colors, despite overwhelming obstacles.
Tickets, available online, range from $40 for Seniors & Students to $95 (for Premium Seats and admission to the after concert Meet The Artist Reception). Premium Season Passes are also available online or by calling 760-699-8151.
SEPTEMBER 22ND CONCERT PROGRAM:
-Mozart: Sonata K 576
-Schumann: Kinderszenen
-Rachmaninoff: Moments Musicaux–No.2/3/4
-Chopin: Andante Spianato and Grand Polonaise
The Classical Palm Springs series will continue with concerts on November 10, 2018 with pianist Dan Tepfer; on January 27, 2019 with Brazilian composer and pianist Clarice Assad; on February 10, 2019 with guitar virtuoso Mak Grgik; and on March 10, 2019 with pianist Inna Faliks performing selected Bagatelles of Robert Schumann and Richard Danielpour, preceded by a special Children's concert at 1pm.
---
Fei-Fei
Born in Shenzhen, China, Fei-Fei began piano lessons at the age of 5. She moved to New York to study at The Juilliard School, where she earned her Bachelor and Master of Music degrees under the guidance of Yoheved Kaplinsky.
Her burgeoning career includes a number of prominent concerto engagements in the 2017-18 season, including performances with the American Symphony Orchestra at the Bard Music Festival, the Buffalo Philharmonic, Long Beach Symphony, Calgary Philharmonic, Denver Philharmonic, Knoxville Symphony, and a return engagement with California's Pacific Symphony for a special performance celebrating the Chinese New Year.  This season, Fei-Fei also performs in recital in ten states across the United States as well as nineteen cities in China.
# # #