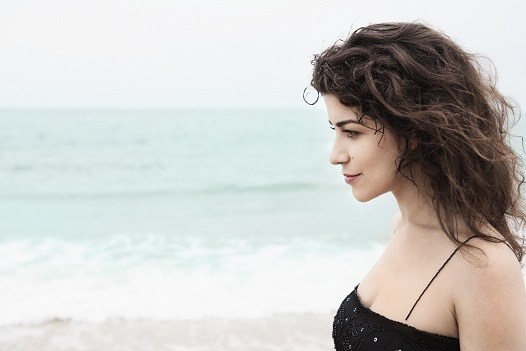 Autobiographical monologue, spoken by the pianist, intersects with music by Bach, Chopin, Shchedrin & more. This unique story of an immigrant follows family's journey as Ukrainian Jewish refugees.
"A concert pianist of the highest order, Inna Faliks can be as dramatic or as subtle as a great stage actor." —Marc Vitali, WTTW Radio
On
 Saturday Oct 13,
 2018 at 7:30 pm, celebrated pianist
Inna Faliks
will perform the New York Premiere of her one-woman program, 
Polonaise-Fantaisie: The Story of a Pianist
at the 
Leonard Nimoy Thalia Theatre of New York's Symphony Space,
2537 Broadway at 95th St., New York, NY 10025
. Tickets are $20, $15 for seniors and students, and available at 
SymphonySpace.org
.
As part of her 2018-19 international touring season, Faliks is proud to offer this concert-theater experience as a complement her Delos Records double-CD of the same name.
Polonaise-Fantaisie: The Story of a Pianist's works span 289 years in their dates of composition and run the gamut from Bach and Mozart to contemporary composer Jan Freidlin. The musical tracks appearing on the album are interspersed with writings by the pianist chronicling her upbringing in Odessa, Ukraine; her musical and romantic awakenings; and her subsequent immigration to the US as a Jewish refugee. Each selection illustrates or relates to the text, either autobiographically or contextually.
Selections featured are unified by their brevity. Representing a huge variety of styles, they are carefully curated to be emotionally and texturally illustrative of events unfolding in the life experience of the protagonist. The unusual experience of an artist telling her own story in a candid and authentic fashion, including a frank discussion of the perils of becoming a musician, has strongly connected audiences to this popular program. Works in the live performance are:

* Rodion Shchedrin: Basso Ostinato
* J.S. Bach: Prelude and Fugue in G-sharp Minor, The Well-Tempered Clavier, Book 1
* Jan Freidlin: Ballade in Black and White* – *composed for Inna Faliks in 2011
* W.A. Mozart: Fantasia in D Minor, K 397
* Chopin-Liszt: The Maiden's Wish
* Paganini-Liszt: La Campanella
* Frédéric Chopin: Polonaise-fantaisie, Op. 61
* Ludwig van Beethoven: 6 Bagatelles, opus 126
The album itself was recorded at UCLA, where Faliks is currently a professor and head of the piano department. It is available at 
delosmusic.com
 and on Amazon, iTunes, AppleMusic, and Spotify.
---
For more about Inna Faliks, please visit innafaliks.com