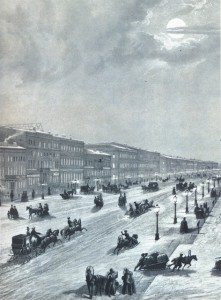 Nevsky Prospekt, a new composition by Terran Olson of the band Kayo Dot, will premiere at NYC's The Stone on Wednesday, February 3rd at 8pm. Terran Olson (composer and pianist), Toby Driver (guitar), and David Bodie (drums), all of Kayo Dot, will perform.
The Stone is located at the corner of avenue C and 2nd street. Admission is $10, students 13 to 19 are admitted half price, and children 12 and under are free. There are no advance ticket sales — all admissions are at the door prior to each performance.
Nevsky Prospekt is based on the story of the same name by Nikolai Gogol (set in Gogol's contemporary environs, Tsarist Russia). The title refers to a central avenue in St. Petersburg, and is superficially about two young men pursuing women they meet on Nevsky Prospekt. Its thematic focus is on the often-symmetrical relationship between dream and reality.  The music is structured into 22 short movements, each based on an excerpt from the story which will be projected (in English translation) during the performance.
Terran Olson is most well known as a member of Avant-metal band Kayo Dot, led by Toby Driver. Contributing on saxophones, clarinet, flute, and keyboard instruments, Olson appears on the band's debut CD, "Choirs of the Eye" (Tzadik, 2003) and will appear on their upcoming "Coyote" (to be released in early 2010 on Hydra Head records). With Kayo Dot, Olson participated in two headlining tours in Europe, and has toured many times in the states, opening at various times for Secret Chiefs 3, Earth, and Pelican. Olson also was once a member of maudlin of the Well – Driver's earlier doom/progressive metal project, which officially dissolved in 2003. Olson appears on the band's recordings "Bath" & "Leaving Your Body Map" (Dark Symphonies, 2001) as well as the reunion record "Part the Second" (fan-funded, 2009). "Eclipse" (2003) and "The Hallowing" (2007) feature Olson as a member of Autumn Tears, the Darkwave/neoclassical project of Dark Symphonies founder Ted Tringo. Olson earned his BA in Music from Hampshire College. He received both his MA in Composition and his MFA in Electronic Music and Recording Media from Mills College, and studied with Yusef Lateef, Fred Frith, Alvin Curran, Annie Gosfield, Anne LeBaron, and Chris Brown. Other live performances of compositions by Olson include "Eight Salts," which has been performed in excerpt by the Quartet San Francisco and in its entirety by the Ives Quartet.
Toby Driver, composer/bandleader for Kayo Dot and maudlin of the Well, also has a solo record out on Tzadik and another project he leads called Tartar Lamb.
Drummer David Bodie also currently plays in Kayo Dot. Prior to that he played in Time of Orchids, with whom he recorded for Tzadik and Cuneiform.
The Stone (John Zorn, Artistic Director) is a new not-for-profit artists' performance space in the East Village dedicated tot he experimental and avant-garde. All expenses are paid for by the music itself – through the online sale of special Limited Edition CDs released yearly on the Tzadik label. Each month a different musician is responsible for curating the programs with 100% of the nightly revenue going directly to the musicians.