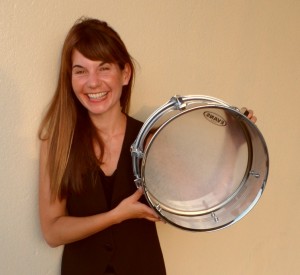 Boston, MA – A percussion soloist pioneer in the orchestral realm and beyond, New York City-based Lisa Pegher has made it her life's work to present percussion to larger audiences by collaborating on new works that bring percussion to the front of the stage. Her latest project is a new album recorded by saxophonist Kenneth Coon, composer Mathew Rosenblum, and the Boston Modern Orchestra Project. Mathew Rosenblum: Möbius Loop, released on the BMOP/sound label, includes the Rosenblum's Double Concerto, a piece in five movements that uses a solo percussionist to color and shade the leading melodies of the solo saxophone. This, combined with Rosenblum's original use of microtonal compositional language, results in a double concerto like no other.
The album release comes at a hot moment for Pegher as she enters a busy fall filled with composer collaborations, recording sessions, and the undertaking of her NYC duo project, "Controlled Chaos." One of the very few full-time percussion soloists in the world, Pegher has been hailed by the Boston Globe as "forcefully balletic" and by critic Marty Lash as "a gifted, passionate artist, with a rockstar aura."
The album is available for download at both the BMOP/sound website and on iTunes.
About BMOP/sound:
BMOP/sound, the Grammy-nominated signature record label of the acclaimed Boston
Modern Orchestra Project (BMOP), an eclectic, composer-centric catalog of both rediscovered classics of the 20th century and the music of today's most influential and innovative composers. Since its launch in 2008, BMOP/sound recordings have received several accolades including: "Best of 2008" lists for its five inaugural releases in the New York Times, Boston Globe, National Public Radio, Time Out New York, American Record Guide, and Downbeat Magazine, among others; five Grammy nominations in 2009 for Charles Fussell: Wilde, in 2010 for Derek Bermel: Voices and in 2011 for Steven Mackey: Dream House. The New York Times proclaimed, "BMOP/sound is an example of everything done right." For more information, visit bmopsound.org.