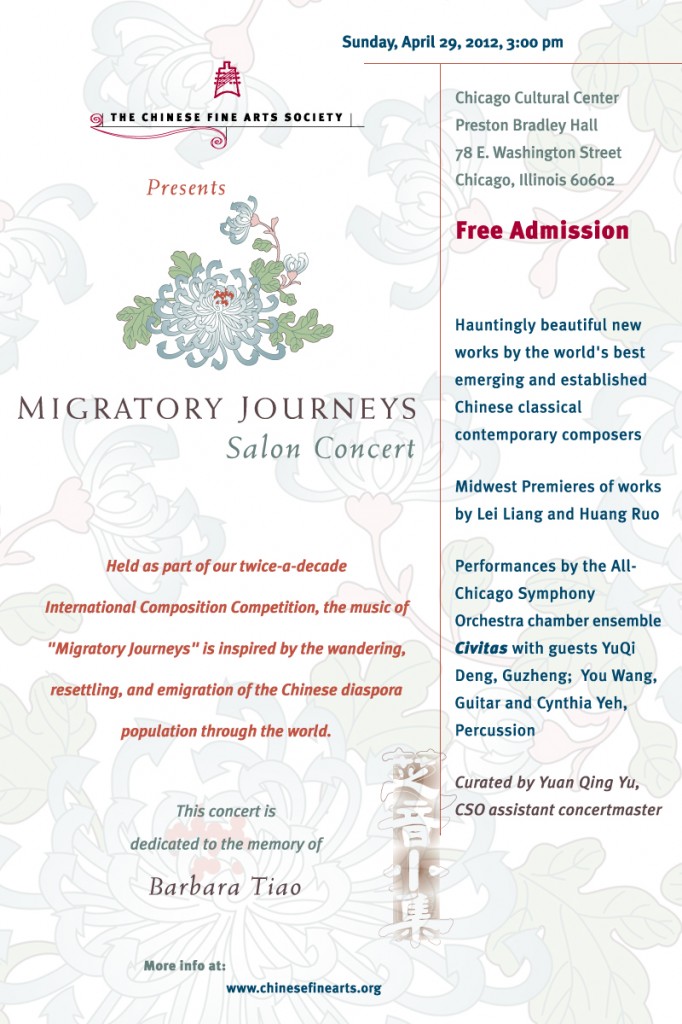 Chicago's Chinese Fine Arts Society is pleased to announce the second of their 2012 Migratory Journeys Premiere Concerts which feature works by top Chinese composers alongside a selection of winning works from CFAS's Third International Music Composition Competition where composers were invited to participate by creating original music inspired by the wandering, resettling, and emigration of Chinese diaspora population through the world.
Winning compositions were selected by a panel of esteemed judges comprised of composers Chen Yi and Huang Ruo as well as Fulcrum Point New Music Project Director Stephen Burns. Curated by CFAS Guest Music Director Yuan Qing Yu, assistant concertmaster to the Chicago Symphony Orchestra, this all-Chinese music concert will be performed by acclaimed Chicago professional musicians, including members of chamber music Civitas, and members of the CSO. This free concert will take place at the Chicago Cultural Center's Preston Bradley Hall on April 29, 2012 at 3pm. The Chicago Cultural Center is located at 78 E. Washington, in Chicago.
Drawing upon the submission of original work by emerging as well as seasoned composers, the CFAS International Music Composition Competition seeks inspires creativity and innovation in the global music community.
"We're very excited about this program." says curator Yuan-Qing Yu. "We're featuring a variety of compositions and instrumentations, from traditional Chinese to modern, including cross-cultural pieces that use western instruments to reproduce sound that resembles Chinese instruments."
The Program is as follows:
·       Yearning by Chen Yao (COMPETITION WINNER)
·       Moon Lullaby by Tonia Ko (COMPETITION WINNER)
·       Book of the Forgotten by Huang Ruo (MIDWEST PREMIERE)
·       Seven Desires for Guitar by Tan Dun (MIDWEST PREMIERE)
·       The Willows are New by Chou Wen Chung
·       Taiping Drum by Zhou Long
·       A Journey into Desire by Lei Liang
·       Tibetan Dances by Bright Sheng
Musicians include: Yuan-Qing Yu* (Violin); Catherine Brubaker (Viola); Ken Olsen* (Cello); Daniel Armstrong (Double Bass); Kuang-Hao Huang (Piano); Scott Hostetler (Oboe); Lawrie Bloom* (Clarinet); Cynthia Yeh (Percussion); YuQi Deng (Zheng); You Wang (Guitar); (*denotes member of chamber ensemble Civitas)