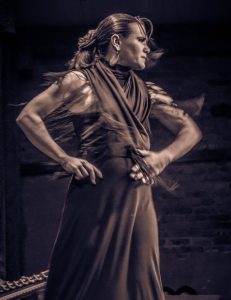 Wendy Clinard, Founder and Artistic Director of Clinard Dance, has been performing and teaching the art of Flamenco for more than 20 years. She has spent years researching the roots of Flamenco and her classes offer a comprehensive Flamenco foundation with a contemporary sensibility.
Dancers of all levels, beginner or professional, are welcomed into her intimate studio environment. Beginning the week of July 16th through August 26th, Clinard is hosting six weeks of intensive sessions in the Pilsen neighborhood of Chicago. The intensives are designed to challenge and expand on current studies at Clinard Dance as well as welcome and encourage new students.
The session "kicks off" with guest flamenco master África Fernández Montoya, de la Faraona, daughter of the dynasty maker, el Farruco. África will guest teach to set the tone for a summer of heartfelt and challenging studies on July 16th and July 17th.
---
* CLASSES OFFERED: Palmas (All Levels), Yoga-Based Floor Barre (All Levels), Multi-Level Technique (All Levels), Sevillanas (Beginner), Soleá Por Bulerías (Intermediate), Soleá (Intermediate), Bulerías/Tangos Por Fiesta (Intermediate/Advanced), Farruca (Advanced)
* PUNCH CARDS may be purchased on the first day of class and are priced in half hour increments at $8 per punch. Students may purchase as many punches as they like. (Please note: punch cards for the summer session expire on August 26th, 2018.)
* DROP-IN RATES are as follows: $20/1 hr | $25/1.25 hr | $30/1.5 hr
---
To reserve a spot, please send an email to [email protected].
For more information, including specific class descriptions and dates, visit clinardance.org.