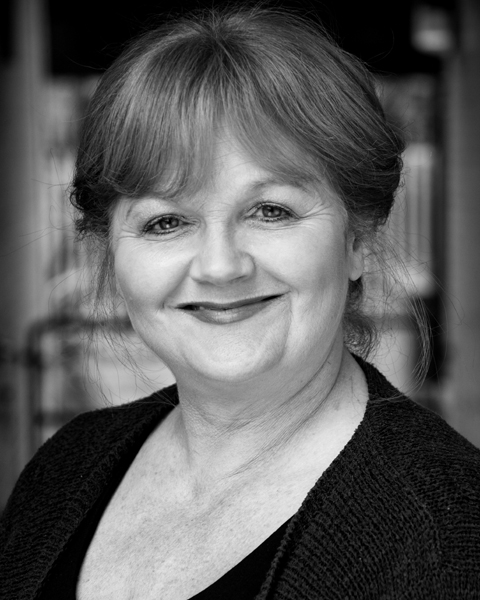 Devised by Nigel Hess and presented by the International Music Foundation, Admission: One Shilling is a unique, one-night-only theatrical evening that tells the extraordinary story of Myra Hess and her famous World War II National Gallery concerts. This production starring Downton Abbey actress (Mrs. Patmore) Lesley Nicol and pianist Inna Faliks will take place at the Chicago Cultural Center's Preston Bradley Hall on Tuesday, January 29, 2013 at 7:00 p.m. Tickets (maximum 4 tickets per request) are free of charge and may be obtained by sending a self-addressed stamped envelope to International Music Foundation, 30 East Adams Street, Suite 1206, Chicago, IL 60603.  Ticket requests must be post-marked after January 7, 2013.  Requests post-marked before January 8 will be discarded.
In Dame Myra's own words – compiled by her great-nephew, composer Nigel Hess – and with piano music by Bach, Beethoven, Schubert, Brahms, Schumann and Chopin, we hear how the 'great adventure' of these 1600 lunchtime concerts in the National Gallery began, and how it continued on a daily basis for 6 years, even while bombs rained down on London. It is fitting that the US premiere of this work should take place in Chicago, a city which continues to honor the memory of Dame Myra Hess with the weekly Dame Myra Hess Memorial Concerts presented every Wednesday of the year at the Chicago Cultural Center by the International Music Foundation. This performance is made possible through the generous lead sponsorship of BMO Harris Bank, with major additional support from the English Speaking Union and the Richard H. Driehaus Foundation.
Actress Lesley Nicol spent her formative years in a small town in Lancashire. Daughter of a Scottish GP and a Welsh actress, she discovered early on that accents and being funny were very useful at school, and compensated for fairly shocking results in any subject other than English and Drama. When she was studying for 'A' levels in Manchester, she discovered the Library Theatre – became besotted – and gently nagged them, until they employed her at £1 a week. She then spent 3 years at the Guildhall School of Music and Drama in the early 70's and has been acting ever since. Lesley has enjoyed a hugely diverse career, and this continues to this day. She started her musical career in Jesus Christ Superstar – the first production! – sang her way round the theatres of Great Britain, then found herself in the West End for 3 years playing Rosie in Mamma Mia and Kath Casey in Our House. Her television career has encompassed drama and comedy. Perhaps one of Lesley's strengths is the ability to make you laugh, and also to move you. When she was in Mamma Mia, fellow actress Anne Reid said to her – 'You have learnt to put your arms around an audience'. She plays Mrs. Patmore in ITV's hugely successful Downton Abbey written by Julian Fellowes and co-starring Maggie Smith and Hugh Bonneville.  Lesley's film career is small but beautifully formed – the multi-award winning UK feature East is East, and the sequel West is West which was released in 2011.
Pianist Inna Faliks has set herself apart in thousands of performances as a sincere, communicative and direct performer whose virtuosity, power and risk taking serve the depth, intelligence and poetry of her interpretations. Inna's command of standard solo and concerto repertoire is highlighted by her love of rare and new music, and interdisciplinary and audience-involving programs and lectures. These include her award winning Music/Words, where she alternates music with readings by contemporary poets, her program of piano music of the poet Boris Pasternak (on MSR Classics Sound of Verse, which drew comparisons to Argerich and Cliburn), 13 Ways of Looking at the Goldberg – new variations on Bach's Aria , music of women composers, and many other programs. She makes sure to present programs that include both beloved crowd pleasers and music that is new and challenging, creating an adventurous, moving and involving experience for the audience. She is a musical omnivore. Faliks debuted as a teenager with the Chicago Symphony and at the Gilmore Festival to rave reviews, and has been exciting and moving audiences worldwide since then.
Nigel Hess, the creator of Admission: One Shilling and the great-nephew of Dame Myra Hess, works extensively as a composer and conductor in television, theatre and film.  He has composed numerous scores for both American and British television productions, including A Woman of Substance, Vanity Fair, Campion, Maigret, Dangerfield, Just William, Wycliffe, Ballykissangel and New Tricks.  He has received the Ivor Novello award twice for Best TV Theme (Hetty Wainthropp Investigates and Testament), and is well-known to Classic FM listeners for his film soundtrack to Ladies in Lavender. Nigel has written many scores for Royal Shakespeare Company productions, and was awarded the New York Drama Desk Award for 'Outstanding Music in a Play' for Much Ado About Nothing and Cyrano de Bergerac on Broadway.  His recent work at Shakespeare's Globe includes the scores for The Merry Wives of Windsor, Romeo and Juliet and Henry VIII.  Nigel has also composed much concert music, most recently his Concerto for Piano and Orchestra commissioned by HRH The Prince of Wales.
The International Music Foundation has presented the Dame Myra Hess Memorial Concerts under the magnificent Tiffany stained-glass dome in the Chicago Cultural Center's Preston Bradley Hall every Wednesday at 12:15 p.m. since 1977.  The concerts are broadcast live over WFMT Radio (98.7FM) locally, and are streamed globally over www.wfmt.com. The concerts are an important showcase for local, national, and international emerging classical artists, and follow in the tradition of Dame Myra Hess, one of the most eminent pianists of the 20th century, whose assistance to young musicians was a constant during her career.