VITAL VOX: A VOCAL FESTIVAL explores the myriad power of the human voice in its solo and ensemble forms across a multitude of genres. This three day festival is in its 2nd annual appearance and will occur on November 11, 12, and 13 2010 at 8:30pm at the ISSUE Project Room at the Old American Can Factory, 232 3rd Street, in Brooklyn, NY. (F/G Subway to Carroll St or F/M/R to 9th St./4th Ave.) Tickets are $10 ($9 in advance) and can be purchased at www.issueprojectroom.org or by calling 718-330-0313. VITAL VOX celebrates composer-performers in the vocal arts who stretch and expand the voice in new and original ways, continuing a strong contemporary tradition developed in the United States.
With international influences springing from such countries and regions as Taiwan, East Timor, Slovakia, Africa, South India, and more; genres ranging from jazz, experimental, contemporary, free improvisation, "noise" music, and abstract solo opera; and themes ranging from "maintaining one's composure", to cinematographic music theater inspired by the life, films and death of the German filmmaker Rainer Werner Fassbinder, VITAL VOX has wide ranging scope and appeal.
VITAL VOX was premiered in May 2009 at Teatro IATI (International Theatre Arts Institute) in the East Village. The Festival brought together some of the most talented & creative young vocalists in NYC, and featured a total of 7 projects and 13 vocalists. Sasha Bogdanowitsch & Sabrina Lastman are Artistic Directors for the festival, which is produced by World in One & Issue Project Room.
The November 11, 2010 program includes Inner Chapters performed by Jen Shyu; Songs for Double Bass and Voice by Nat Baldwin; River of Painted Birds by Sabrina Lastman; and The Art of the Diff by Chris Mann.
The November12, 2010 program includesHold Yourself Together by Corey Dargel ; Inflections in a Vibratory Field by Samita Sinha; Improvisations 11-12-10 by C Spencer Yeh; and Gatekeeper by Joan La Barbara.
The November 13, 2010 program includes Takadimi duo (Lori Cotler with Glen Velez); Untitled for 2010 by Audrey Chen; Present, Past and Future Sees by Sasha Bogdanowitsch; and Gisburg's The Rainer Werner Fassbinder Songs performed by Magic Names.
VITAL VOX 2010 PROGRAM DESCRIPTIONS
(FULL PERFORMER BIOS ARE AVAILABLE THROUGH WEB SITE LINKS)
Vocalist/composer/pianist/dancer Jen Shyu presents her groundbreaking solo project "Inner Chapters" — original songs which range from mysteriously dark to sensuously ecstatic for solo voice, piano, dance, moon guitar, er hu, and lakado. Her sung languages include English, Portuguese, Spanish, Mandarin, Taiwanese, Tetum, and Piniyumayan dialect, featuring poetry by Brazilian poet Patrícia Magalhães, Tang Dynasty poets Li Bai and Mengjiao, and text by Cuban slave Esteban Montejo.  Amidst her original music and improvisations, she will also play the two-stringed "gat kim" or moon lute, an authentic Taiwanese instrument and the "lakado," a traditional East Timorese bamboo instrument, both which she learned from elders in Taiwan and East Timor.
New Hampshire-native Nat Baldwin is an experimental upright bassist and singer-songwriter who cut his teeth studying with free jazz legend Anthony Braxton. In addition to his three critically-acclaimed solo releases, Nat has collaborated on works with Extra Life, Vampire Weekend and is a long-time member of The Dirty Projectors. Nat will perform "Songs for Double Bass and Voice", including works from his new, not-yet-released album.
"River of Painted Birds" by Sabrina Lastman is a music performance created for solo voice (sung & spoken), pre-recorded voice and sound tracks (cassette/walkman, computer) and percussion, looking for a musical balance among elements of jazz, experimental and contemporary music. This new piece is inspired by the poetry and texts of Uruguayan writers and thinkers that created their works as a consequence of the repression during or after the dictatorship period of the seventies.
Chris Mann says of his work, "The Art of the Diff," "language is the mechanism whereby you understand what i'm thinking better than i do (where i is defined by those changes for which i is required)."
Composer and singer/songwriter Corey Dargel will present the first incarnation of "Hold Yourself Together," a collection of songs about composure — why we lose it, how we regain it, and for whom we keep it. The songs take a quizzical approach to the commonly held belief that we should "compose ourselves" when confronted with exciting or devastating situations. "Hold Yourself Together" will be performed by Dargel (vocals) with James Moore (guitars), and Wil Smith (synthesizers).
In her new performance piece, Samita Sinha spins a story using the sounds of tarana – a type of composition in Hindustani classical music in which Persian, Arabic, and Sanskrit phonemes are sung at a fast speed. Tarana is generally believed to be a nonsense song, though other stories hint that its syllables encode mystical meanings. For solo voice with 3 microphones and 3 boxes (electronic tabla, electronic tanpura, and mini amp).
Presenting organized improvisations for the evening of November 12th, 2010, with voice and microphones, C Spencer Yeh draws upon his years of autodidactic vocal methods and exploration, drawing inspiration from sound poetry, European free improvisation, and the brute methods of contemporary "noise" music.
"Gatekeeper" (2009, revised 2010), for solo amplified voice and sonic atmosphere composed and performed by Joan La Barbara is a solo concert piece excerpted from an opera-in-progress, an abstract work which endeavors to expose the artist's struggle, externalizing the inner dialogue and the genesis of the act of producing art. Performing live over the sonic atmosphere, densely textured vocal winds, melodic fragments and mysterious instrumental textures, La Barbara floats a layer of revelatory vocal lines, seamlessly interweaving the live and pre-recorded soundscapes. "Gatekeeper" was first performed September 18, 2009 at Brava Theatre in San Francisco, at the San Francisco Electronic Music Festival, and has been remixed for this year's performance at VITAL VOX Festival.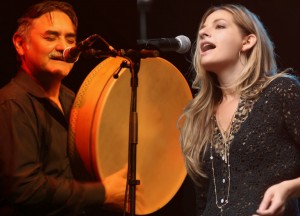 Featuring Rhythm Voice Virtuoso Lori Cotler and Grammy winning Master Drummer Glen Velez, Ta Ka Di Mi Duo presents compositions derived from music of the Mid-East, Central Asia and the Mediterranean. A multifarious array of frame drums, bird calls and exotic noisemakers blend with South Indian Konnakol drum language, soulful melodies and jazz inflected scat, to deliver an evening of pure rhythm and pulse. Lori coined the term Rhythm Vocalist to describe her special special approach to combining Jazz scat, melismatic improvisations, with the rare vocal art form known as Konnakol, the highly sophisticated South Indian drum language.
Audrey Chen says of her piece, "Untitled for 2010," "the fire in my throat is superseded  by the black water of that new england lake in my belly.  night swimming and meteors which are long tailed falling stars from august 12th. they fell into me as his voice bled into my right ear and we lay there looking up wishing for impossible things over and over again. together and apart. and we move on and away now as the long road ends and continues. i am singing thirteen thousand miles of this dragonfly shape of a path we made around this country. i am singing the summer still. i am still fragile. but i am full. topped off with the landscapes and now familiar touch of the home he has become. no matter where now. no matter when. i have swallowed every hot sun, moon, lake and ocean on either end with him. i am singing. and my throat is filled with everything."
"Present, Past and Future Sees" by Sasha Bogdanowitsch is for voice, electronics and acoustic instruments as diverse as the Slovakian fujara, Gothic harp, Halo drum, lyre, hurdy gurdy and African ngoni. From the medieval troubadours/trouveres of Europe and griots/jaliyas of Africa to the itinerant Bauls of Bengal and the bardic poets of Ancient Greece, there seems to be something extremely prevalent about the presentation of music via voice and a single instrument throughout history and cultures. These singers and instrumentalists were/are multi-taskers, often taking the roles of storyteller, poet, praise singer, news provider, comedian and keeper of oral history,and would often accompany themselves on a single instrument. This work utilizes various extended vocal techniques and uses original text alongside the writings of Pablo Neruda, William Blake, Medieval and Native American literature and the composer's unique language of sounds. "Present, Past and Future Sees" is about the exploration of this vocal/instrument relationship, but through contemporary ears and technology, finding the spot where the simplicity of voice and instrument ring true again. Bogdanowitsch's set will conclude with a performance of the fourth movement of "Encompassing," his award winning work for 4 voices.
Magic Names, an eclectic group of New York City performing artists, is a 6-member self-led vocal ensemble, founded in 2007 to champion Stimmung, the rarely performed vocal masterpiece of Karlheinz Stockhausen (written in 1968). The group's premiere concert after an intensive 18-month rehearsal period was in May 2009 at New Museum in New York City. They come together as composers, classical singers, pop singers, dancers, sound-artists, and film-makers. Magic Names are all avid improvisers – united by a shared passion for contemporary repertoire, and new experimentation. Stimmung was only the starting point of what Magic Names will perform. The ensemble's six members are: Margot Bassett, Gisburg, Dafna Naphtali, Nick Hallett, Peter Sciscioli and Robert Osborne. "The Rainer Werner Fassbinder Songs" (For 6 singers, piano, 2 violins, guitar and percussion) is composed by Gisburg and is cinematographic music theater; inspired by the life, films and death of the German filmmaker Rainer Werner Fassbinder. The Song cycle is about the era of political and sexual revolution of the 60's – 80's shown from a Post AIDS point of view and is about the belief that relationships between people are always multi dimensional.