Part of the 40th annual Pride Bands Alliance Conference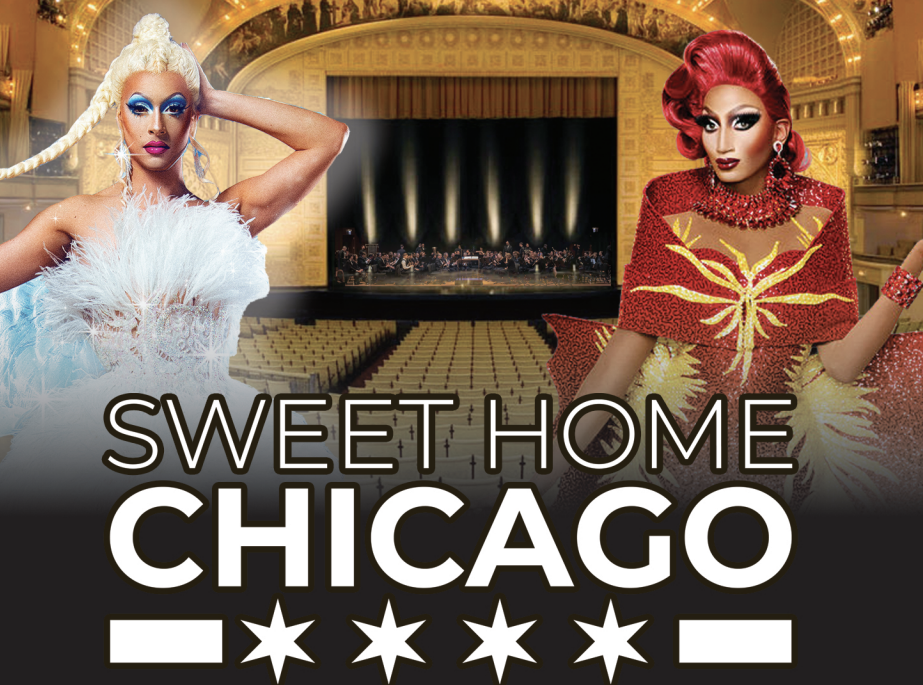 Hosted by Denali Foxx and Angeria Paris VanMicheals
(of RuPAUL'S Drag Race fame)
Featuring world premieres by composers
Christen Taylor Holmes and Evan Williams
On Sunday, May 29 at 7pm, Chicago's Auditorium Theatre will host the culmination of the 40th annual Pride Bands Alliance conference. Chicago's Lakeside Pride is welcoming Pride Bands Alliance members from its family of 38 affiliate bands spread across the United States, Australia, the UK, and Canada to return to Sweet Home Chicago where the organization started 40 years ago!
Held in a different city each year, here's what makes this year's celebration so special:


World premiere compositions

Griffin

by young composers

Christen Taylor Holmes

and

Love Words

by

Evan Williams

Celebrity hosts, both contestants from

RuPaul's Drag Race: Denali Foxx and Angeria Paris VanMicheals

,

will emcee and appear in a special performance and an exclusive VIP Meet & Greet

Two ensembles conducted by four conductors

40th anniversary celebration showcasing diversity in the LGBTQ spectrum

General Admission tickets are available at an early bird price of $18.75 (price increases to $25.00 after April 15 and $30.00 on the day of show) and are available at sweethomechicago2022.org. A very limited number of VIP Meet & Greet tickets, available at the same link, are $140.50 and include preferred seating, and an exclusive champagne reception with Denali Foxx and Angeria Paris VanMicheals.
In addition to the world premieres, works by Kimberly Archer, Steven Reineke, Tania León, Brent Michael Davids, Julie Giroux, Randall Standridge, Tawnie Olson, Lawren Brianna Ware, Yukiko Nishimura, and Adolphus Hailstork will also be performed.
Conductors Kyle Rhoades, Manic Maxxie, Jon Noworyta, and Jadine Louie will lead two full symphonic bands. Each band will play half the concert, with nearly 250 musicians gracing the stage over the course of the evening! 
The 2022 Annual Conference of the Pride Bands Alliance (formerly Lesbian and Gay Band Association), brings this exciting event to the shores of Lake Michigan in the heart of Downtown Chicago. With the theme "Returning to Our Roots" the conference recalls that in 1982, seven LGBTQ individual music bands from across the country met here in Chicago to unite as one larger music organization, and since those early years, Pride Bands Alliance has grown exponentially into the successful international music organization it is today. Forty years later, there is no better way to mark the accomplishments of Pride Bands Alliance than where it originated, back in the Midwest and in the hometown of a founding member.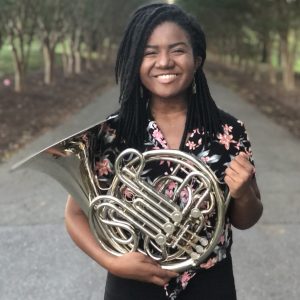 Christen Taylor Holmes (b. 2000) born and raised in Southern Maryland is an emerging Composer and French Hornist. She graduated from Calvert High School in 2018 and is currently at the University of Maryland where she is in the process of earning a Bachelor of Music in Music Composition, a Bachelor of Science in Information Sciences, and a minor in Arts Leadership. Through UMD, she has experienced many fantastic opportunities like collaborating with professional chamber groups such as yMusic and Dal Niente, and participating as a Fellow for the Sphinx Connect Conference in Detroit, MI.
The music of Evan Williams has been performed across the country and internationally by members of the Detroit Symphony Orchestra, the International Contemporary Ensemble, Quince Ensemble, Fifth House Ensemble, and at festivals such as SEAMUS and the New York City Electronic Music Festival. In addition, he has been commissioned by notable performers and ensembles including the Cincinnati Symphony Orchestra, Urban Playground Chamber Orchestra, and many more. For this concert's world premiere, Mr. Williams will draw inspiration from the poetry of Claude McKay, a key figure in the Harlem Renaissance. McKay was bisexual and spent the last four years of his life in Chicago. Williams plans to compose a fantasia-like piece of many moods, reflective of McKay's ungendered love poems. 
---
For more information, please visit:
sweethomechicago2022.org and lakesidepride.org