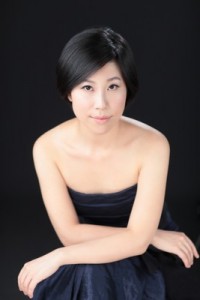 Shanghai/New York based pianist Jenny Q Chai (www.JennyChai.com) will perform a concert entitled Acqua Alta (High Water), at New York City's Spectrum on Tuesday, May 7, 2013 at 8pm. Spectrum is located at 121 Ludlow St., New York City. Admission is $15 general / $10 students & seniors.
Acqua Alta (High Water) will be the anchor of a month-long programming focus on global warming at Spectrum, with installations based on data curated by Ian Fenty, whose doctoral dissertation at MIT addressed global warming and its effects on our oceans.
"I wanted to create a program that is multifaceted like the surface of a sparkling stream in Venice," says pianist Chai. "The music on this program features the piano's range of expression, from exquisite nuance to bold gesture."
John Cage's athletic Water Walk is the centerpiece of the program. Written in 1959, John Cage's Water Walk is scored for a number of objects, including bathtub, rubber duck, prepared piano and five radios. It was originally premiered on the Italian TV show Lascia O Raddoppia. Ninnananna from Marco Stroppa's Miniature Estrose—a lullaby in which its out of worldly tremors creates a gentle watery shimmer and explores the two relations between two states of mind, with initiated knowledge one might trace hidden lullabies by Brahms, Schubert, Stravinsky and an Italian lullaby Stroppa's mother used to sing to him. Scarlatti and Gibbons provides the sensation of traveling back in time in Italy, while Debussy and Ravel adds their watery imagery. Three world premieres by Nils Vigeland, Milica Paranosic and Michael Vincent Waller reflect contemporary composers' take on global warming.
Acqua Alta (High Water) Concert Program:
Milica Paranosic Bubble World Premiere
Kurtag Hommage à Scarlatti
Scarlatti, Sonatas
Gibbons, Allemande (1613)
Marco Stroppa, Ninnananna from Miniature Estrose
Liszt, La lugubre gondola
Debussy, Prelude La cathédrale engloutie
Ravel, Une Barque Sur L'océan  from Miroirs
Nils Vigeland, I Turisti World Premiere
Michael Vincent Waller Acqua Santa World Premiere
John Cage, Water Walk
Recently having made her Carnegie Hall debut at Zankel Hall, pianist Jenny Q Chai was praised by the New York Times' Anthony Tommasini for her "resourceful technique and sensitivity" as well as playing that is "admirable for its refinement and directness." Of her performance at the Keys to the Future Festival, Zachary Woolfe wrote, also in the New York Times: "Jenny Q Chai opened the concert playing two of Ligeti's Études with rich tone and rhythmic clarity; especially strong was her "Cordes à vide." In addition to Carnegie Hall, Jenny has played at New York venues such as Le Poisson Rouge, Roulette, Symphony Space, the Stone and recently made her Chicago debut playing Schumann's Kreisleriana at the Dame Myra Hess Series.
An adventurous and prodigiously talented young player, Jenny Q Chai cultivates a mercurial and engrossing stage presence and seeks to create "fairy tales for grown-ups" in her themed and multimedia concert performances. Ms. Chai's unique programs include standard classical repertoire such as Schumann and Debussy to 20th and 21st century piano works, often by living composers, such as Marco Stroppa, with whom she has a close affiliation.
Recipient of the Yvar Mikhashoff Trust's 2011 Pianist/Composer Commissioning Project, first prize winner of the Keys to the Future Contemporary Solo Piano Festival, and recipient of the DAAD Arts and Performance award in 2010, Chai has premiered, most notably, Life Sketches and Five Pieces (for Jenny Q Chai) by Nils Vigeland, Intimate Rejection by Ashley Fu-Tsun Wang, Messiaen's Canteyodjaya (China premiere) and Marco Stroppa's Innige Cavatina (US premiere). Chai has also premiered "Marriage (Mile 58) Section F" from The Road by Frederick Rzewski in Ghent, Belgium, where she was given the Logos Award for the best performance of 2008. Chai played the first contemporary solo piano concert in China this June at the National Performing Arts Center in Beijing; and she recently had the privilege of introducing the concept of prepared piano to a Chinese audience, with the world premiere of Mallet Dance by John Slover, in Shanghai Concert Hall.
Ms. Chai is currently working on a CD of the works of composer Nils Vigeland for Naxos Records.