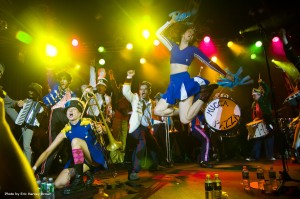 Mucca Pazza is Chicago's amazing 30 piece punk rock marching band. Their performance on September 13th at Mercury Lounge is a must see!
More specific information on this performance here.
Mucca Pazza. Often mispronounced, seldom mistook. 30 grown-up dorks with too much energy and too little self-restraint, stupefying their audience with music that should never be performed by a marching band. To their credit, this band of misfits only has one march in their repertoire, a bizarre stomp played on the usual marching band instrumentation: snare drums, glockenspiel, sousaphone, speaker-helmet electric guitar, etc. Their other music includes zombie-mambo, snake-charmer-metal, gypsy-reggaeton and classical. Their completely mismatched uniforms and plastic bag pom poms dazzle revelers while their chaotic movements and strange behavior dazzle the police. The hardest smelling band in show business, Mucca Pazza is a sight to be heard.
"When was the last time you saw a marching band that just completely rocked? Until I saw Chicago's own punk rock marching band, Mucca Pazza I hadn't [seen one] either. This 25 to 35 member marching band nearly blew the Bluebird (St. Louis) down a couple of months ago. This was a really incredible night and an astounding performance."
– Bill Streeter (Lo-Fi St. Louis, May 2008)
"…Mucca Pazza (Italian for "mad cow") may not quite have 76 trombones, but they have enough other instruments to make a serious racket – including woodwinds, trumpets, accordions, strings, drums, cymbals and electric guitar."
– Jason Toon (St. Louis Riverfront Times, February 2008)
"…[Parades] — some planned, some impromptu — are part of the Mucca Pazza experience. There was the time the band wrapped up a show in an Iowa City bar by marching out a door and down an alley. The audience followed, and the band had to march them back in. And there was the appearance at a record store — an empty record store — in Brooklyn. The musicians went into the street and started playing. A crowd of 200 materialized and the band Pied Pipered them back to the store."
– William Hageman (Chicago Tribune, March 2008)
Mucca Pazza…proved to be a marching band that dodged any sense of convention. Yes, they dressed predominantly in uniforms, none of which even remotely matched… The ensemble's preferences for gyrations and shimmies and a repertoire that touched on funk, ska, rhumba, Balkan folk, surf and klezmer music as well as covers by such unfathomably disparate artists as Nubian singer/bandleader Ali Hassan Kuban and Russian composer Dimitri Shostakovich.
– Walter Tunis (The Musical Box, May 2008)