MI PALPITA IL COR: BAROQUE PASSIONS
Musica Pacifica's new recording featuring Soprano Dominique Labelle
Released today on Navona Records
American-based Early Music ensemble Musica Pacifica, in collaboration with French-Canadian soprano Dominique Labelle, is set to release a new CD of music – MI PALPITA IL COR: BAROQUE PASSIONS – on the Navona Label, today, October 14th, 2016.
Produced by GRAMMY-nominated producer David v.R. Bowles, the recording will be released in both physical and digital formats, and will be available for purchase at major online retailers such as Amazon, iTunes, Spotify, and many more.
Mi Palpita Il Cor features an array of instrumental and vocal compositions, exploring the rich repertoire of the mid- and late-Baroque period. Thematically focused on "passion," the selections range from 'anguish' to 'humor,' displaying the exquisite musicianship of these early music superstars. Included on the disc are cantatas by Handel, Steffani, and Rameau, as well as a Paris Quartet by Telemann and a trio by Sammartini.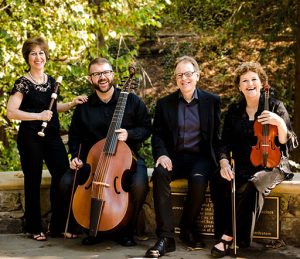 Called "some of the finest Baroque musicians in America" by American Record Guide, Musica Pacifica is host to virtuosic soloists Judith Linsenberg (recorder), Elizabeth Blumenstock (violin), Josh Lee (viola de gamba), John Lenti (theorbo; guitar), and Charles Sherman (harpsichord).
Featured vocalist Dominique Labelle, noted for her "lustrous and urgent voice" (San Francisco Classical Voice), brings vibrancy to this work. Having previously collaborated in live settings, Musica Pacifica is pleased to team up again with Labelle in this studio recording.
---
Works included are:
✻Agostino Steffani (1654-1728) Guardati O Core (Cantata)
✻Giuseppe Sammartini (1695-1750) Sonata in B minor, Op. 1, No. 6 (London, 1736)
✻George Frideric Handel (1685-1759) Mi Palpita il Cor (Cantata)
✻Georg Philipp Telemann (1681-1767) Quatuor Nr. 3 in G major – "Nouveaux Quatuors" (1738)
✻Jean-Philippe Rameau (1683-1764) Orphée (Cantata)
Total Running Time: 76 minutes
---
About Dominique Labelle
Dominique Labelle is renowned for her vast repertoire of Baroque to New Music, performing internationally in New York, Budapest, Las Palmas, and her home of Montréal. Her passionate commitment to music-making has led to close and enduring collaborations with a number of the world's most respected conductors and composers, such as Iván Fischer, Nicholas McGegan, Jos van Veldhoven, Jean-Marie Zeitouni, and the Pulitzer Prize winning composer Yehudi Wyner. She also treasures her long association with the late Robert Shaw.
Among her numerous recordings of opera and concert repertoire is Monsigny's Le Déserteur with Opera Lafayette and Ryan Brown (Naxos). She can also be heard on recordings on the Virgin Veritas, Deutsche Harmonia Mundi, RCA Victor Red Seal, Koss, Denon, New World, Carus and Muisica Omnia labels. Her recording of Handel's Arminio (Virgin Classics) won the 2002 Handel Prize.
Trained at McGill and Boston Universities, Dominique is Professor of Voice at the Schulich School of Music at McGill University. She has also taught master classes at Harvard University, Smith College, and the University of Massachusetts.
---
About Musica Pacifica
Musica Pacifica has, since its founding in 1990, become widely recognized as one of America's premier baroque ensembles. Lauded for both the dazzling virtuosity and the warm expressiveness of its performances, they have been described by the press as being "among the best in the world" (Alte Musik Aktuell). At home in the San Francisco Bay area, the artists perform with Philharmonia Baroque and American Bach Soloists, and appear with many other prominent early music ensembles nationally and abroad. The Washington Post noted: "the effect was transporting––a small miracle of precision and musical electricity."
They have performed on some of the most prestigious concert series in the U.S., including the Boston and Berkeley Early Music Festivals, Music Before 1800 and the Frick Collection (NY), the Getty Museum (Los Angeles), the Cleveland Art Museum, Dumbarton Oaks (Washington, DC), Pittsburgh Renaissance and Baroque, Seattle Early Music Guild, Early Music Society of the Islands (Victoria, BC) and Houston Early Music Society, among many others.
Musica Pacifica's previous eight CD releases on the Virgin Classics, Dorian and Solimar labels have won national and international awards, including the highest ratings in several CD magazines and being chosen as "CD of the Month" by the early music journal Alte Musik Aktuell (Regensburg). Their recordings have been praised by the likes of Audiophile Edition, Chamber Music America, and prestigious British journal Gramophone.
On radio, they have been featured on National Public Radio's "Performance Today", WFIU's nationally syndicated "Harmonia", New York's WQXR, and on Minnesota Public Radio. Online, Musica Pacifica can be heard on radio stations 1.fm, Last.fm, Celtic Radio, and Recorder-radio.com, as well as on Pandora, iTunes and Magnatune; and seen on youtube.com/MusicaPacificaSF.