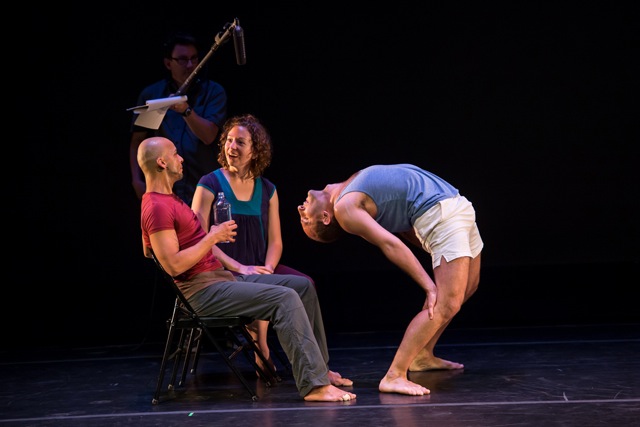 From October 3-13, 2013, Chicago's Lucky Plush Productions will perform two works – Cinderbox 2.0 and The Better Half – in repertory at the new Links Hall, 3111 N. Western Ave, Chicago, featuring performances by Francisco Aviña, Adrian Danzig, Marc Macaranas, Melinda Jean Myers, Cassandra Porter, Julia Rhoads, Michel Rodriguez, Benjamin Wardell, and Meghann Wilkinson.
Lucky Plush Productions (LPP) is a Chicago-based dance theater company committed to provoking and supporting an immediacy of presence – a palpable liveness – shared by performers in real-time with its audiences. A warm reception greeted the Lucky Plush ensemble this September as they previewed Cinderbox 2.0 in front of a live audience at University of Chicago's Summer Cubed. The full program will premiere at the Links Hall residency, alternating with performances of The Better Half, Lucky Plush's adaptation of George Cukor's 1944 film Gaslight. Tickets are $20, $15 for students and seniors.
The LUCKY PLUSH DOUBLE FEATURE will take place on Oct 5 and 12, offering audiences a discounted ticket to see both shows and a reception in between shows with food, complimentary drinks, and an informal discussion with the artists.
For more information and tickets, please visit www.linkshall.org or call 773.281.0824.
SCHEDULE OF RUN:
Cinderbox 2.0 will be performed on Oct 3 and 4 at 7pm, Oct 5 at 4pm, and Oct 11, 12, and 13 at 7pm.
The Better Half will be performed on Oct 5, 6, and 10 at 7pm and Oct 12 at 4pm.
In Cinderbox 2.0, LPP's Artistic Director Julia Rhoads revisits the distinctive world of Cinderbox 18 (2007, Museum of Contemporary Art Chicago) with new material. A playful and surreal take on media's voyeuristic approach to "reality," Cinderbox 2.0 blurs the distinctions between observer and observed, personal and presentational, scripted and off-the-cuff, and spirals into a dark comedy that is oddly familiar and wonderfully surprising. Featuring Francisco Aviña, Marc Macaranas, Melinda Jean Myers, Cassandra Porter, Benjamin Wardell, and Meghann Wilkinson. Original music by Michael Caskey, video design by John Boesche, and lighting design by Kevin Rechner.

The Better Half is a dance theater spin on the psychological thriller Gaslight, co-created by Lucky Plush Artistic Director Julia Rhoads and theater director Leslie Buxbaum Danzig (of 500 Clown). Launching from this classic film, layers of fiction and reality accumulate, revealing the elusive boundaries between life versus borrowed plotlines. Ultimately a new narrative emerges, capturing the habitual patterns, escapist tendencies, and resilience in contemporary relationships through a complex mix of dance and theater languages. The Better Half premiered at the Museum of Contemporary Art in 2011, but now features new material. Featuring Francisco Aviña, Adrian Danzig (of 500 Clown), Julia Rhoads, Michel Rodriguez, and Meghann Wilkinson. Lighting design by Heather Gilbert, original music and sound design by Mikhail Fiskel, and video design by John Boesche.
Lucky Plush Productions (LPP) is dedicated to creating work that is richly and uncompromisingly complex while also being accessible to broad audiences. Critics and audiences alike recognize LPP for its playful interactions, surprising humor and incisive commentary on contemporary culture.
Since founding in 1999, Lucky Plush has premiered over 25 original works including site-specific works, dance films, and 10 evening-length productions. Recent presentations include Spoleto Festival/USA (SC), World Music/CRASHArts at ICA/Boston (MA), DANCECleveland (OH), Clarice Smith Performing Arts Center (MD), Museum of Contemporary Art Chicago, College of St. Benedict & St. John's University (MN), Hancher Auditorium (IA), Dance Center of Columbia College Chicago, Steppenwolf Garage (IL), Joyce SoHo (NY), and Spring to Dance (MO), among others, as well as an international exchange with the Dance & Physical Theatre Trust of New Zealand and New Zealand Dance Company.
LPP has received two National Dance Project Production Grants, an NDP Production Residency for Dance, and two NPN Creation Fund grants. Co-commissioning presenters include Museum of Contemporary Art Chicago, Clarice Smith Performing Arts Center (MD), Out North Contemporary Art House (AK), Flynn Center for the Performing Arts (VT) and Links Hall Chicago. The company has been recognized by Chicago Public Radio's "Best of 2011"; The Chicago Reader's "Best of Chicago 2010"; Time Out Chicago's "The Decade's 10 Best Original Dance Works"; The Chicago Tribune's "Best of Dance 2008"; Chicago Sun Times' "Lasting memories in Dance" for 2005 and 2007, and a Time Out Chicago cover story "5 reasons to love dance in Chicago." Lucky Plush is currently taking part in the "Summer Cubed" residency at the University of Chicago, together with Lookingglass Theatre & The Inconvenience.
Additionally, LPP recently spearheaded Creative Partners (creativepartnersarts.org), a collaborative effort to provide professional fundraising for three Chicago nonprofit arts organizations: Lucky Plush Productions, Blair Thomas & Co, and eighth blackbird. Creative Partners allows these nationally recognized organizations to focus on what they do best: making world-class dance, theatre and music.
Julia Rhoads is the founding Artistic Director of Lucky Plush Productions, and has created over 25 original works with the company. Her independent choreography has been commissioned by Lookingglass Theatre, River North Chicago Dance Company, Redmoon, Alaska Dance Theater, Mordine and Company Dance Theater, Walkabout Theater, Hyperdelic, and M5, among others. Julia is the recipient of the 2013 Alpert Award in Dance, a fellowship from the Maggie Allesee National Center for Choreography, a Chicago Dancemakers Forum Lab Artist Award, a Cliff Dwellers Foundation Award for Choreography, two Illinois Arts Council Fellowships for Choreography, a Jacob K. Javits Fellowship, and she was named one of Dance Magazine's "25 to Watch" in 2010. Julia is formerly a company member of the San Francisco Ballet and collaborating ensemble member of XSIGHT! Performance Group. She earned a BA in History from Northwestern University and an MFA from the School of the Art Institute Chicago, and is currently part-time faculty and dance advisor at University of Chicago's Theater and Performance Studies.
Leslie Buxbaum Danzig is co-founder of the Chicago-based physical theater company 500 Clown, where she co-created and directed 500 Clown Macbeth, Frankenstein, Elephant Deal, and Christmas. 500 Clown has played in Chicago at venues including Steppenwolf and Lookingglass and tours regularly throughout the US. Other credits include directing Redmoon's Hunchback at The New Victory Theater (NYC) and Float with About Face Theatre; co-directing The Better Half with Lucky Plush Productions and The Elephant and the Whale, an original Redmoon production commissioned by Chicago Children's Theatre; touring nationally and internationally as an actor with NYC's Elevator Repair Service; and appearing as Masha in The Seagull in Lake Lucille, NY (director Brian Mertes). Danzig received her Bachelor of Arts from Brown University and PhD in Performance Studies at Northwestern University, and she trained in physical theatre and clown with Jacques Lecoq and Philippe Gaulier. For the past five years, she has taught at The University of Chicago and is currently at the University as program curator for the Richard and Mary L. Gray Center for Arts and Inquiry.