Featuring a concert version of King's Bessie-nominated piece Astral Epitaphs that was commissioned by the Merce Cunningham Dance Company for its final shows at the Park Avenue Armory in Dec. 2011, the music of New York composer John King will be presented at Brooklyn's Roulette on Friday, December 7 at 8pm. John King's KOSMOS is reflection of the composer's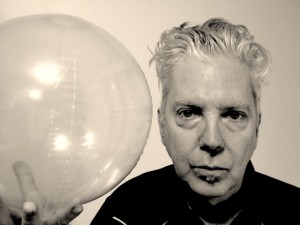 current world — a multifaceted summary of new works by this composer who is setting a new and individual path, projecting out from his past work with John Cage and David Tudor. With new works for ensembles large and small, this concert will include performances by the Brooklyn Youth Chorus, TILT Brass Sextet, and Crucible String Quartet. Roulette is located at 509 Atlantic Ave, for more information please visit www.roulette.org or call 917-267-0363.
John King's KOSMOS  – COMPLETE PROGRAM (all works by John King):
– Astral Epitaphs, performed by TILT Brass Sextet and Brooklyn Youth Chorus
– KOSMOS part II, performed by Crucible Quartet
– (climax in) The Deserts of Love, performed by Melissa Fogarty and Ensemble

Beginning the program will be a concert version of King's Bessie-nominated piece Astral Epitaphs that was commissioned by the Merce Cunningham Dance Company for its final shows at the Park Avenue Armory in Dec. 2011. Surrounding the Roulette space will be the TILT Brass Sextet and the Brooklyn Youth Chorus, with live electronics performed by the composer. The texts for this piece come from the Latin "Lux Aeterna" and from an Ancient Greek epitaph attributed to Seikilos written on a tombstone, both dealing with timelessness and remembrance. "I wanted to include a live performance by the Brooklyn Youth Chorus in last year's performance of Astral Epitaphs but couldn't," says King, "and now I have the exciting opportunity to recreate this large ensemble piece with chorus and instrumentalists throughout as well as  surrounding the space."

King's most recent string quartet, KOSMOS part II, will be played by his Crucible Quartet, featuring NY string luminaries Cornelius Dufallo, Conrad Harris and Yves Dharamraj, along with the composer. Part I was premiered at the Lincoln Center Festival in July 2011. This is the second part of a 4-part three-hour long quartet and has an independent chance-determined live electronics surround-sound component as well.
The final piece, (climax in) The Deserts of Love, will be realized by a large 20-piece mixed ensemble and will feature the stunning voice of Melissa Fogarty, known for her early and Baroque music expertise as well as her Klezmer, operatic and contemporary virtuosity. The text for this composition is a poetic reduction of the prose fragment, "The Deserts of Love", by Arthur Rimbaud. Each member of the ensemble is a soloist playing his or her chance-determined musical material independently of each other, following a digital time score. The soprano part floats above the ensemble moving at her own unique pace in realizing this exquisite and powerful text of Rimbaud.
John King, composer, guitarist and violist, has received commissions from the Kronos Quartet; Ethel; Bang On A Can All-Stars; Mannheim Ballet; New York City Ballet/Diamond Project, Stuttgart Ballet, Ballets de Monte Carlo; as well as the Merce Cunningham Dance Co. His string quartets have also been performed by the Eclipse Quartet (LA) and the Mondriaan Quartet (Amsterdam). His Crucible Quartet has premiered many of his compositions at The Stone (June 2007) and The Kitchen (April 2009). He has written 3 operas: herzstück/heartpiece, based on the text of Heiner Müller, premiered at the 1999 Warsaw Autumn Festival and presented at the Kitchen NYC in 2000 (a double-opera, co-written with Krzysztof Knittel); la belle captive based on texts by Alain Robbe-Grillet, premiered at Teatro Colon/CETC in Buenos Aires in 2003, and toured to London's ICA (Fronteras Festival) in 2004 and The Kitchen in 2005; and also his most recent opera, Dice Thrown, based on the Stéphane Mallarmé poem, an excerpt of which was performed by New York City Opera as part of its VOX series in May 2008. The complete staged version was presented at CalArts April 23-24, 2010. He has 3 recent CD releases of music for string quartet; 10 Mysteries and AllSteel (Tzadik); and Ethel (Cantaloupe). He was Music Curator at The Kitchen from 1999-2003 and from 2002-2011 was a co-director of the Music Committee at MCDC. He is also the recipient of the 2009 Alpert Award in the Arts for Music. 
The Brooklyn Youth Chorus Academy, Dianne Berkun, Artistic Director and Founder, offers exceptional music training and choral performances to enrich the lives of its students and community. Through music study and professional-level performing experiences, BYCA unites children of diverse backgrounds and helps them develop into confident and expressive musicians and individuals. BYCA has performed with the New York, Los Angeles and Brooklyn Philharmonics; with Barbra Streisand, Lou Reed, Judy Collins, Sir Elton John, John Legend and Ray Davies; under the baton of Valery Gergiev, Lorin Maazel, James Levine, Marin Alsop, Esa-Pekka Salonen, Charles Dutoit, Robert Spano, and Leon Botstein; and alongside the Mark Morris and Wally Cardona dance companies.  In 2005, BYCA won the Best Classical Album Grammy® for On the Transmigration of Souls by John Adams.  BYCA works to develop new choral music across many genres by commissioning composers and arrangers including Pulitzer prize-winners David Lang and Paul Moravec.
Led by composer, trombonist, and curator Chris McIntyre, TILT Brass is a Brooklyn-based organization dedicated to creating new content and contexts for contemporary brass music by producing inventive concert programs, recording projects, and commissioning initiatives. Formed in 2003 TILT primarily presents the work of living composers, having premiered over 20 compositions thus far. Its ensembles range from solo and chamber ensembles to experimental brass orchestra, anchored by its two resident ensembles, TILT Creative Brass Band (TCBB) and TILT SIXtet. TILT projects have been presented in a number of vital New York venues including the Whitney Museum, ISSUE Project Room, Joe's Pub, Cornelia Street Cafe, and The Stone. In December 2011, TILT Brass was a featured ensemble during the final performances of the Merce Cunningham Dance Co. at Park Avenue Armory. TILT Brass' first full-length recording was released in April 2011. To TILT: Volume 1, the first in a series presenting commissioned works, features the Creative Brass Band. Vol. 2, scheduled for release in Spring 2013, will feature the SIXtet project.
Hailed by The New York Times for her "delirious abandon" on stage, versatile soprano Melissa Fogarty's wide-ranging experience has led her to appear at venues from New York City Opera to popular clubs such as Le Poisson Rouge and City Winery. She has been featured in VOX, New York City Opera's annual showcase of new American operas and has appeared in scenes presented by American Opera Projects and American Lyric Theater. A favorite of Pulitzer Prize-winning composer David Del Tredici, Ms. Fogarty has given world premieres of several of his works. Sought after by numerous other composers and new music groups, Ms. Fogarty has also performed the world premieres of Vessel by Kati Agócs with the Metropolis Ensemble at Symphony Space and Christopher James's Five Sappho Fragments with the esteemed new music ensemble North/South Consonance. Ms. Fogarty is also known for her lively and elegant interpretations of Baroque and Classical-period music. Ms. Fogarty has earned awards including the Anna Sosenko Assist Trust, the Adams Fellowship at the Carmel Bach Festival and the Giorgio Cini Foundation Fellowship for study in Venice.
Crucible Quartet was formed in 2005 to perform exclusively the work of John King. Since then they have premiered over 10 of his quartets at the Lincoln Center Festival/Allen Room, The Stone, The Kitchen, Roulette, and other slubs throughout New York City. They have also recorded three of King's compositions on their 10 Mysteries CD on the Tzadik label.