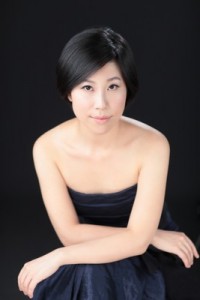 On September 13, at the Shanghai Concert Hall (home of the Shanghai Symphony Orchestra), pianist Jenny Q Chai will perform a solo recital and lecture entitled "Infinity of Piano Music." Compiling some of "the wildest piano music in history," and pairing them with selections from the standard repertoire, Chai's program will boil tradition in a pressure cooker and catch the spillover with a baseball mitt.
Standard repertoire pieces will include Debussy's Preludes, Ravel's Une Barque Sur L'océan from Miroirs, and a selection of Scarlatti sonatas. Non-traditional pieces include Kurtag's Quiet talk with the Devil, Marcos Stroppa's Ninnananna, and a complete staging of John Cage's rarely performed Water Walk.
The concert/lecture begins at 7:30 p.m. Complete program information is below.
"INFINITY OF PIANO MUSIC" COMPLETE PROGRAM:
Debussy
Prelude: Le vent dans la plaine
Prelude: Ondine
Prelusde: La cathédrale engloutie
Kurtag
Quiet talk with the Devil
Les adieux
Hommage à Scarlatti
Scarlatti
Sonatas
Gibbons
The Italian Ground (1613)
Marco Stroppa
Ninnananna from Miniature Estrose
Henry Cowell
Aelolian Harp
Three Irish Legends
Annie Gosfiel
"Brooklyn, October 5, 1941" For piano. baseballs and baseball mit
Ravel
Une Barque Sur L'océan from Miroirs
John Cage
The Wonderful Widow of Eighteen Springs/Nowth Upon Nacht