New York, NY
— 
Building on the success of their 2013-14 residency at 
Abrons Arts Center,
Experiments in Opera
r
eturns to 
Abron's Underground Theater from

February 13-21, 2015
 for the world premiere of 
Sisyphus
, a reimagining of the complete Sisyphus story told by three composers. Experimenting with new collaborative processes and embracing the eclecticism of New York's contemporary and DIY music scenes, EiO aims to expand their support of today's composers looking to tell their stories through music.
There's more to the myth of
Sisyphus
than a man pushing a boulder up a hill. In this new, collaboratively-composed evening-length opera, the famous story is twisted, pulled apart, and reassembled in a collage of characters, genres and questions.
Sisyphus 
features texts and music by the
three founders of Experiments in Opera: Jason Cady, Aaron Siegel, and Matthew Welch
and is being developed in partnership with the director
Ethan Heard
and the designer 
Kristen Robinson.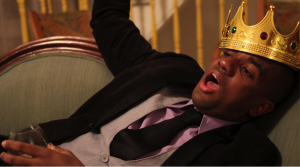 Jason, Aaron and Matt
decided that they wanted to write a piece together, each using their own unique musical languages but telling the same story. They chose Sisyphus as a way to continue the tradition of myths as mutable stories, changing with each telling depending on the background of the storyteller. In this new opera, Jason focuses primarily on the story of Sisyphus, whose legendary ego and excesses were the cause of his infamous punishment. Aaron tells the tragic story of Aegina, whose capture by Zeus is discovered and betrayed by Sisyphus. And Matt focuses on the never-ending hell that Sisyphus lives as a result of his transgressions. This version of
Sisyphus
will at turns be tragic, obsessive and hilarious, all in the course of a 60 minute, fully-staged production.
The opera is scored for 3 singers, soprano
 Lucy Dhegrae
, mezzo-soprano 
Kate Maroney 
and tenor 
Vince B. Vincent.
They will each embody a dizzying number of roles throughout the production and will be accompanied by 
Joe Bergen 
on vibraphone, 
Meaghan Burke
 on cello, 
Shawn Lovato 
on bass,
 Jason Cady
 on modular synthesizer and conducted by 
Matthew Welch.
Sisyphus
will be directed by 
Ethan Heard,
with stage designs by
 Kristen Robinson
, lighting design by
 Masha Tsimring,
and costume design by
Maria Hooper.
Production details:
February 13, 14, 20 & 21, 2015; 8pm
Abrons Arts Center | Underground Theater
466 Grand Street (at Pitt Street), New York, NY 10002
Tickets $20 at abronsartscenter.org
---
_______________________
COMING LATER THIS SPRING:
Experiments in Opera presents STORY BINGE, seven new operas in a two-night operathon at Roulette in Brooklyn onApril 1 & 2, 2015. Over the course of this opera binge, you will hear the work of eight composers, whose arrival at opera couldn't be more roundabout. The resulting pieces, one-act shorts and excerpts in concert and staged performances tell a range of absurd, abstract, historical and hilarious stories.
Production Details:
April 1-2, 2015, 8:00 PM
Roulette | Brooklyn, NY
roulette.org for tickets
---
_________________________
ABOUT EXPERIMENTS IN OPERA
Co-founded by composers Matthew Welch, Jason Cady, and Aaron Siegel, Experiments in Opera is a composer-driven initiative, featuring recent and new works with innovative answers to the traditional questions about how to connect words, story and music. Our activities respond to the pronounced need to nurture composers who are exploring musical work beyond a strictly concert setting, but furthermore into the hybrid genre of opera. Additionally Experiments in Opera builds supportive and informed audiences that are capable of contributing to its work.
Since 2011, Experiments in Opera has produced thirty new operas, collaborating with over one hundred performers, designers and directors from the New York City artist community. Experiments in Opera has presented the work of more than 20 composers including Jason Cady, Aaron Siegel, Matthew Welch, Georges Aperghis, John Zorn, Robert Ashley, Joe Diebes, Ruby Fulton, Gabrielle Herbst, Mary Kouyoumdjian, Justin Tierney, Leaha Maria Villarreal, the Cough Button collective, Jessica Pavone, Paul Pinto, Jonathan Mitchell, John King, Dave Ruder and Daniel Kushner. Venues have included Abrons Arts Center, Le Poisson Rouge, Roulette, and Issue Project Room.
All of the work developed with Experiments in Opera is documented extensively in videos, images and writings that are available in an online catalogue at experimentsinopera.com.  These insightful looks into the origins of artists' ideas and their working habits help to support EIO's mission of building a more robust conversation about how and why opera works the way it does.
The Abrons Arts Center, located at 466 Grand Street, New York, NY, is the performing and visual arts program of Henry Street Settlement. The Abrons supports the presentation of innovative, multi-disciplinary work; cultivates artists in all stages of their creative development through educational programs, commissions, and residencies; and serves as an intersection of cultural engagement for local, national, and international audiences and arts-workers. For more information, call (212) 598-0400 or visit AbronsArtsCenter.org.
###