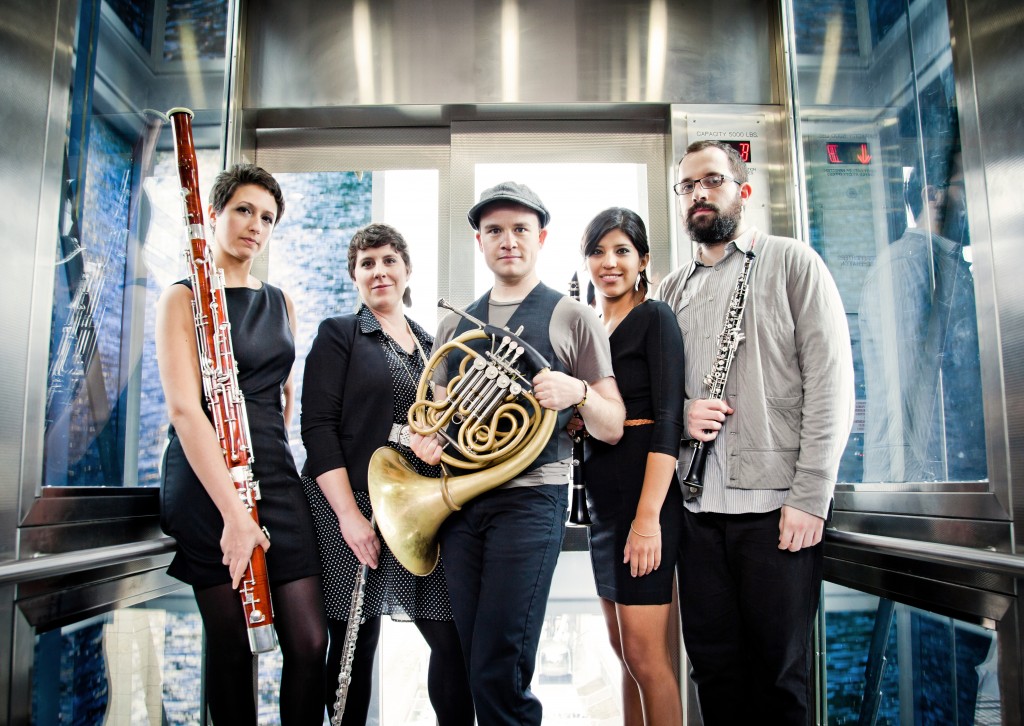 "Retro-Futurist" American wind quintet THE CITY OF TOMORROW announces their March 2013 West Coast debut tour. The only wind quintet to win a gold medal at the Fischoff National Chamber Music Competition in ten years, THE CITY OF TOMORROW advocates for the quality and expansion of wind quintet repertoire and performance. Members are: Elise Blatchford, flute; Andrew Nogal, oboe; Camila Barrientos, clarinet; Laura Miller, bassoon; and Leander Star, horn. Visit www.thecityoftomorrow.org and www.soundcloud.com/the-city-of-tomorrow to read more and for audio and video.
COMPLETE CONCERT INFORMATION:
3/12 – 7:30 pm Master Class at San Francisco Conservatory of Music, Osher Salon, 50 Oak Street, San Francisco, CA
Event is free and open to the public. www.sfcm.edu
3/13 – 7:30 pm Gillingham Concerto for wind quintet and wind ensemble with UC Davis Concert Band, Mondavi Center, One Shields Avenuxse, Davis, CA.
Tickets $12 adults, $8 children. UC Davis students free. www.mondaviarts.org
3/15 – 8 pm Recital at Old First Church, 1751 Sacramento Street, San Francisco, CA
Tickets: $17.00 General; $14.00 Seniors (65 and older); $14.00 Full Time Students.
Children 12 and under are free. www.oldfirstconcerts.org
3/20 – 7:30 pm Recital, "Wind Chamber Music of the Future."
Marianna Ritchey, musicologist at Lewis and Clark College, will serve as MC and musicological guide.
At the Alberta Rose Theater, 3000 NE Alberta St, Portland, OR
Tickets: $17 general admission, $10 students and seniors. www.albertarosetheatre.com
3/23 – 7:30 pm Collaborative recital with Northwest New Music at the Community Music Center,
3350 SE Francis St  Portland, OR
Tickets $25. www.nwnewmusic.org
Repertoire for San Francisco and Alberta Rose shows includes:
Rob Keeley, Wind Quintet (US Premiere, recently World Premiered by COT)
Luciano Berio, Ricorrenze
Darius Milhaud, La Cheminée du Roi René
Magnus Lindberg, Arabesques
In addition to the above performances, COT has been engaged for school/outreach engagements at Sheldon High School (Sacramento, CA); Aragon High School (San Mateo, CA) and Lewis and Clark College (Portland, OR).
The City of Tomorrow, based in New York, Chicago, Portland, and San Antonio, aspires to be a leading international ensemble dedicated to the performance and creation of new music for winds.
Since their Fischoff win in May 2011, the quintet has toured the United States Midwest twice and will tour the US West Coast in spring 2013. Performance highlights include the Dame Myra Hess Memorial Series in Chicago, the Mayo Clinic, the Cedar Cultural Center in Minneapolis, and the Ashland (WI) Chamber Music Society on the scenic shore of Lake Superior. They collaborated with the Portland Cello Project for two performances of Radiohead's classic album OK Computer in Oregon last September.
Most recently, in Canada, the City of Tomorrow performed on the New Music Edmonton series, preceded by a three-week residency at the Banff Centre. In Banff, they performed and recorded as the wind section of Gruppo Montebello, a new-music chamber orchestra. The ensemble's members studied at the Manhattan School of Music, Northwestern University, Oberlin College, the San Francisco Conservatory of Music, and the University of Texas.