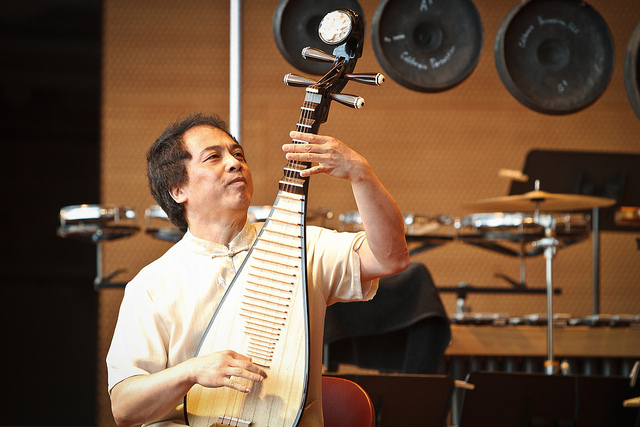 The Chinese Fine Arts Society (CFAS ) will present two free Chicago events in May 2013 in honor of Asian American Heritage Month:
The first, a free concert, on Sunday May 19, 2013 from 3-4pm will be our 24th Annual  All Chinese Music Concert held in Preston Bradley Hall at the Chicago Cultural Center, 78 East Washington Street, Chicago. www.ChicagoCulturalCenter.org.
Featuring some of Chicago's finest Chinese musicians including Silk Road Project members Wei Yang (who plays pipa) and Betti Xiang (erhu player), CSO violinist Qing Hou and award-winning pianist XiaoMin Liang, the program will include the world premiere of "A Mothers' Love" a new pipa work by Liu DeHai, paired with "The Ancient Battlefield" a traditional tour de force for pipa; Chen Gang and He Zhanhao's "Butterfly Lovers Concerto", an iconic 20th century traditional Chinese work, arranged for erhu; Chen Yi's violin/piano duo "Fisherman's Song"; Victoria Bond's "Jing Zhong Bao Guo" for pipa/violin duo inspired by the life of legendary soldier and patriot Yueh Fei. Bond's work, written in 2000, was the Director's Choice winner of CFAS' Yueh Fei International Composition Competition in 1999-2000. This concert, dedicated to the memory of the late founder of CFAS, Barbara Tiao, also provides a preview to their 2014 Main stage programming: the Five Elements Concert series. It will feature exemplary traditional Chinese works paired with contemporary works inspired by them, mirroring the approach that informed much of Ms. Tiao's work with the Chinese Fine Arts Society.
The second event, a free festival of Chinese folk arts including music and dance will take place at noon on Tuesday, May 21 at Daley Plaza, Chicago. Performers include Jin Qiu Yue Dance Studio, Sheng Quan, martial arts, and the Eight Tones Ensemble of traditional Chinese instrumentalists. Richard J. Daley Center – 118 North Clark Street, Chicago – www.explorechicago.org.
Since 1984, the Chinese Fine Arts Society, a small, fully-independent arts organization has brought together people from diverse backgrounds over a common goal: to celebrate the beauty and majesty of traditional and contemporary Chinese music and art. CFAS is dedicated to promoting the appreciation of Chinese culture, enhancing cultural exchange and pursuing excellence in Chinese music, dance and visual arts. For further information about the Chinese Fine Arts Society contact 312-369-3197 or [email protected] and visit ChineseFineArts.org.