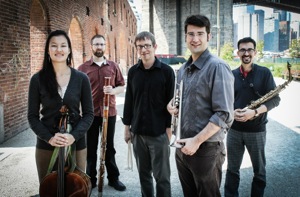 On Saturday November 9th at 7:30 pm, Douglas Detrick's AnyWhen Ensemble will perform at San Francisco's Center for New Music, 55 Taylor Street. AnyWhen will be joined by Addleds and Lisa Mezzacappa's Interlopers in a program entitled Addleds Sound Laboratory #3, curated by Linda Bouchard. Tickets (available at the door) are $15 General, and $10 Members. For venue information, please visit www.centerfornewmusic.com.
AnyWhen Ensemble will perform excerpts from their work, The Bright and Rushing World, selections from their first album Walking Across, and will be giving the world premiere of a new piece, Pax Vobiscum, by New York based Filipino composer Sidney Boquiren.
AnyWhen Ensemble is: Douglas Detrick, composer and trumpet; Hashem Assadullahi, saxophone; Shirley Hunt, cello; Steve Vacchi, bassoon; and Ryan Biesack, percussion
According to AnyWhen's founder Douglas Detrick, "This will be the first time in several years that we've played a work by another composer. I love Sidney Boquiren's music – it has a profound spiritual depth to it that is really hard to find anywhere. I met Sidney when I was an undergrad, and he performed one of his own piano pieces for our class. By the end of the piece he was visibly drained, but not just physically. I sensed that he put everything he had, in a profound, spiritual sense, into that performance for our little class. I never forgot it and I'm honored to be his friend and colleague now, and thrilled to be performing Pax Vobiscum."
Douglas Detrick's AnyWhen Ensemble (Portland,OR) is dedicated to the performance of Detrick's original music and brings jazz and classical musicians together to create a hybrid music with unique possibilities. Its signature instrumentation of trumpet, saxophone, bassoon, cello and drums sets the group apart, but the ensemble makes its most significant impact with highly creative and individual repertoire, a fluid integration of dynamic chamber performance with jazz improvisation, and with its bold vision of a more diverse and more vibrant present and future for music. The AnyWhen Ensemble was awarded the New Jazz Works and Presenting Jazz grant from Chamber Music America in 2011. This extremely competitive grant, attracting over 250 applicants every year, commissioned a new work by Detrick called The Bright and Rushing World, an ambitious addition to this singular composer's list of accomplishments. A recording of this work will be released in 2014. The group has performed at the Jazz Gallery and the Stone in New York, and on festivals including the Festival of New Trumpet Music curated by Dave Douglas, and the Is That Jazz? Festival in Seattle, WA curated by Tom Baker. The group has also performed and given master classes at colleges across the country including Cornish College of the Arts, University of Wisconsin Stevens Point, University of Oregon, and Willamette University.