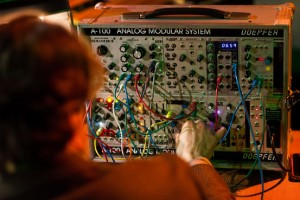 Just when you thought it was safe to turn your radio on, here come the spirit of Thomas Paine, a delusional stamp collector, a mallet-wielding Samuel Beckett, a quietly insane inventor, a skateboarding aesthete and a girlfriend-stealing android. Opera on the Radio, that is.
Experiments in Opera is partnering with Q2 Music,WQXR's online music station devoted to 20th and 21st century classical music, to present six new operatic works made especially with an 'ears only' audience in mind.
Each evening from March 17-22 at 8 pm, a new Experiment in Opera will make its radio premiere and thereafter made available on demand at Q2Music.org. Tune in for stories, singing, sound effects, talking and music.
Also, check out this Wall Street Journal preview of the event.
THE SIX RADIO OPERAS:
Scored for soprano, percussion, viola and electronics, 'Ping' by John King is an adaptation of a Samuel Beckett short story written in a stream of abstract imagery and thoughts. This performance uses musical substitutions to punctuate the flow of the spoken text and will feature soprano Joan La Barbara and electronics by John King.
'The Mutt' by Matthew Welch, takes as its subject freestyle skateboarder Rodney Mullen, who invented the vocabulary of modern skateboarding, endured family abuse in his youth, led a double life as a burgeoning biomedical engineer, and now is an established inventor. The music will feature James Moore and Taylor Levine, from the Dither electric guitar quartet, Matthew Welch on spoken word, and will involve electro-acoustically sequenced "Foley" skateboarding sounds by Steve Brush.

'Thomas Paine in Violence' by Paul Pinto is a mad psychedelic depiction of the final days of the American founding father's life. Paine—portrayed by a soprano spurting speech, operatic vignettes and a number of extended vocal techniques—transports "herself" through space and time, including on "her" deathbed in 1809, the Stock Market of 2008, and the future. Scored for singer and electronics and featuring Joan La Barbara and Miguel Frasconi.

In 'The Collector' by Aaron Siegel, a character delivers a wild and delusional monologue detailing his dangerous obsession with stamp collecting.  The natural rhythms of the spoken text are mimicked in increasing accuracy by the instruments in the ensemble.  The Collector is scored for piano, soprano, vibraphone and actor and will feature pianist Karl Larson, percussionist Matt Evans, soprano Jamie Jordan and Aaron Siegel as the collector.
"I Need Space" by Jason Cady and Ann Heppermann tells the story of a couple moving to a Martian colony but breaking up on the way there. It is set in an alternate present: 2014 as it had been imagined by science fiction writers in the 1950s. I Need Space is scored for two voices, guitar, piano, synthesizer and Foley artist and features tenor Vince B. Vincent, sopranoErin Flannery, guitarist Mary Halvorson, pianist Karl Larson, Jason Cady on modular synthesizer and Foley artist Steve Brush.
"These Walls Can Talk (Working Title)" by Jonathan Mitchell tells the story of a guy who has figured out a way to extract sounds from objects. By inserting a needle into a wall (for example), he can measure the microscopic effects of variations of air pressure over time, and hear conversations that took place in that room. He can do the same thing with stones from Egypt, or the Great Wall of China.