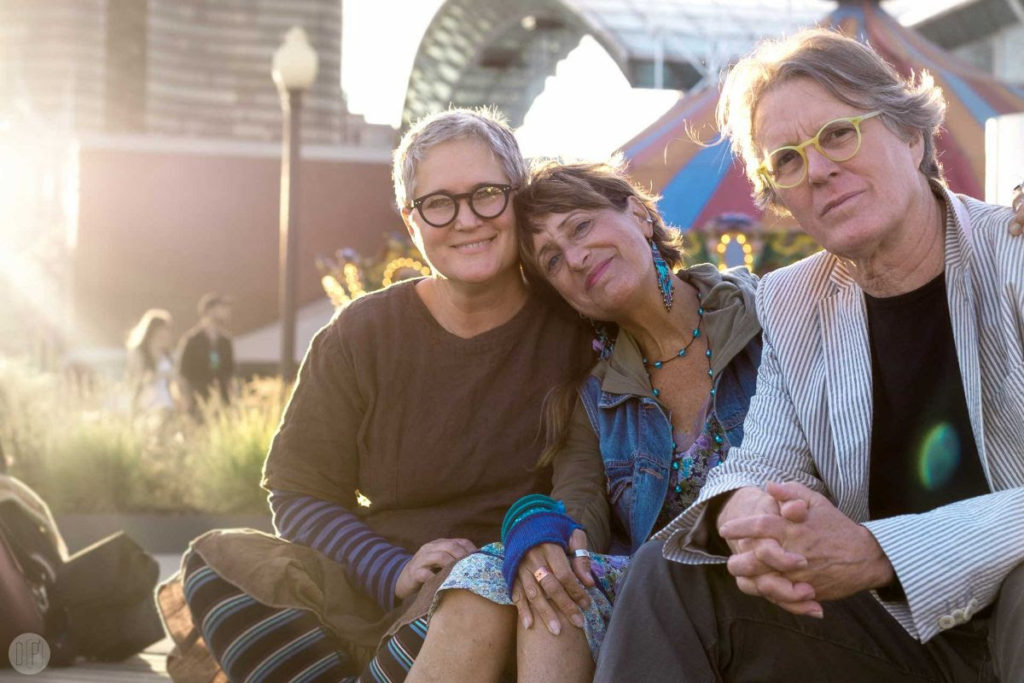 On Tuesday, June 1st, 2021, celebrated folk-trio Sons of the Never Wrong (Sue Demel, Deborah Maris Lader, and Bruce Roper) are set to release their newest album Undertaker's Songbook on their own label, Sons 3 Records. The album will be available digitally on all major platforms, and on CD via their newly revamped website: sonsoftheneverwrong.com 
Their ninth studio release (and eleventh overall) launches a 12 month long celebration in 2021-22 of their 30th anniversary as a group. While much of the album was worked on apart (as a result of the pandemic), these 15 songs find them closer than ever. 
Recurring thematic elements include love, loss, land, sea, saints, and martyrs. While often dark, Undertaker's Songbook is anchored by an unwavering sense of hope and strikingly resonant harmony.  Both cinematic and intimate, this new body of work finds the trio bravely exploring the outer-reaches of their musicianship, while also maintaining the signature Sons' sound.

---
Lead preview track Muddy Muddy River displays Sons' inimitable blend, rife with nuance and lilt. A gospel-tinged mid-tempo in the vein of a reflective Natalie Merchant tune, bluesy hooks abound, carrying the listener along.
Listen to "Muddy Muddy River" on SoundCloud
---
Shorebird is a sincere, piano-led ballad that celebrates the interpretive skills and vocal acrobatics of member Sue Demel. A solo performance, she sings alongside a beautifully arranged piano part by John Erickson, invoking the likes of Cyndi Lauper and Rickie Lee Jones. Demel also takes the lead on her composition Set Us to Praying, a sparse, spiritual waltz dedicated to the late John Prine.
Om Not This Time finds Bruce Roper's sobering vocal dancing around a playful rhythmic verse. Demel and Lader create a vocal soundscape against a bed of tablas and gritty guitar. The song itself masterfully blends a brooding synth style with boozy late-night horns, and a grounded, Tom Petty-like vocal performance. 
Deborah Lader's apt closer In The End earnestly recalls a Jane Siberry-styled meditation, building into a wall of layered voices that include neo-folk singer Karen Savoca. With an underpinning of octave mandolin and a cool, confident drum pulse, the song's lyric and uplifting melody round off the record with a reassuring calm.

---
For more about Sons of the Never Wrong, please visit: sonsoftheneverwrong.com
To request a copy for review, please email Peter McDowell: [email protected]