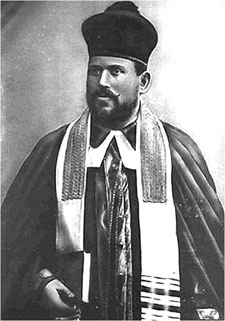 SIROTA for solo piano and historical recording by Lev 'Ljova' Zhurbin
duration: 7:45
Recorded live at the studios of WFMT in Chicago, April 4 2011.
commissioned by Inna Faliks and the Spertus Institute of Jewish Studies;
dedicated to Inna Faliks & Gershon Sirota
SIROTA (the title means "Orphan" in Russian, which could be coincidental) is a composition for solo piano that incorporates a recording made by cantor Gershon Sirota in Warsaw in 1908. Often referred to as "The Jewish Caruso", Gershon Sirota was born in the Ukraine, and served as cantor in Odessa, Vilnius, and in Warsaw, where he perished in the Warsaw Ghetto Uprising.
The piece features a fragmented melody line that is driven by a relentless limping pattern comprised of a falling and rising D-minor chord. After the climax, the pianist's role becomes that of an accompanist at a synagogue, where Sirota is chanting prayers for Rosh Hashannah (the Jewish New Year).
World Premiere: performed by Inna Faliks at the Highland Park Community House in Highland Park, IL, on February 27, 2011