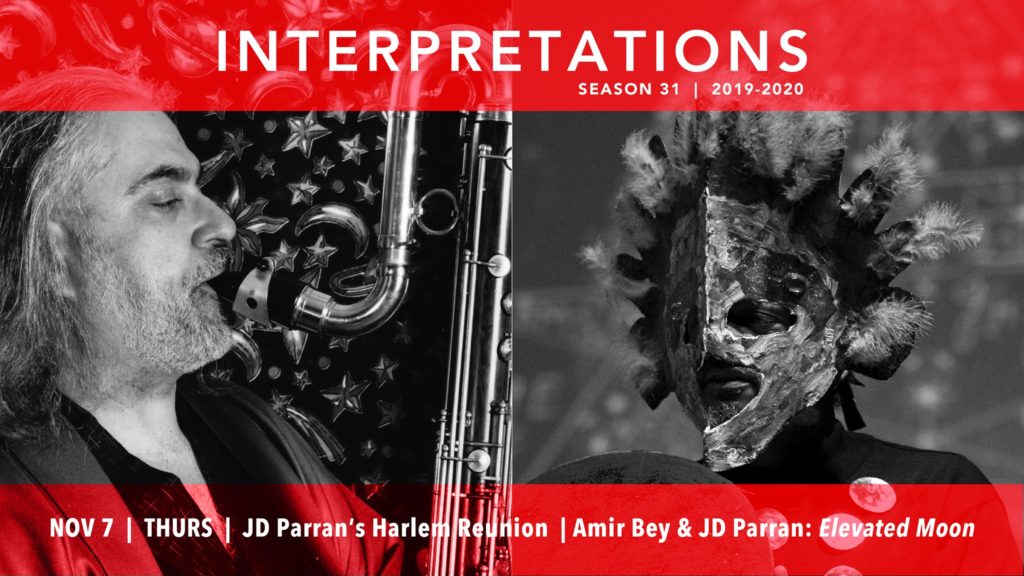 On Thursday,
November 7th, 2019, 8pm, the Interpretations Series 
continues it 31st season with 
Harlem Reunion: original improvisational compositions led by JD Parran; and Elevated Moon: a 'ritualistic happening', presented by both Amir Bey & JD Parran.
 Held at 
Roulette,
 509 Atlantic Ave, 
Brooklyn, 
NY, tickets are $20 for adults / $15 for students & seniors, and available on 
www.Roulette.org
 and 
www.Interpretations.info.

---
Composer and multi-woodwind player JD Parran's Harlem Reunion is a music/spoken word quartet, performing original improvisational compositions. (With Alexis Marcelo, piano; Larry Roland, poet and bass; Jackson Krall, percussion.)
Amir Bey & JD Parran present Elevated Moon: a 'ritualistic happening' that combines sound, movement, visual vibrance, and light projections. An 'elevation of spirits' is presented in a multidisciplinary, mixed-media synthesis, aiming to present the room with a joyous experience.
Storyteller Amir Bey acts as a visual ambassador, using various masks, Astrologos, and swinging percussive mobiles. The audience is invited to participate at the end, synergising with the Freedom the performers have expressed. (With Soundrhythium Michael TA Thompson, drums & percussion; Bill Toles, light-magic; Chihiro Cute-Beat Kobayashi, movements and poses.)
Of this concert, JD Parran says, "In the past I have performed in Interpretations concerts that have marked high points in my work. I am excited about this concert as an opportunity to compose and perform the music  for two specific projects close where I live in my creative self."
---
Interpretations continues its tradition of playing host to composers, interpreters, and improvisers — artists of both local and international scale, with myriads of approaches to music.
On the heels of last year's acclaimed 30th anniversary, the Interpretations Series is dedicated to nurturing the relationship of innovative composers with the growing community of new music virtuoso performers. "When we started, this was a real need, especially for the more experimental new music," says Founder and Artistic Director Thomas Buckner. "Now we are experiencing a blossoming of new music groups and solo performers, which makes the series necessary in a new way. There are so many exceptional composers and performers who need a great place to perform."
---
※ THURSDAY DECEMBER 5, 2019: MOMENTA QUARTET + ELIZABETH BROWN, FRANCES WHITE
The Momenta Quartet joins forces with composers Elizabeth Brown and Frances White in a multimedia evening fusing Western contemporary music with Japanese aesthetics, literary references, and a video/sculpture installation by artist Lothar Osterburg.
※ THURSDAY APRIL 9, 2020: THOMAS BUCKNER
Baritone Thomas Buckner presents his 31st annual concert of newly commissioned pieces with works by Earl Howard, Pauline Kim, JD Parran, and Buckner himself.  With performers Soo Yeon Lyuh (haegeum, a two-stringed Korean bowed instrument); Andrew Drury (percussion); Earl Howard (synthesizer and saxophone); JD Parran (reeds).
※ THURSDAY MAY 7, 2020: MÉLANIE GENIN | ENSEMBLE L'ART POUR L'ART
Mélanie Genin performs new music for harp by Christian Dachez, Michael Greba, Saad Haddad, Pauline Kim Harris, Mantovani, and Ricardo Romaneiro. / Ensemble L'Art Pour L'Art perform works by Matthias Kawl, Stephan Streich, Killian Schwoon and others.  With Matthias Kawl (percussion); Astrid Smelik (flute). Michael Shorder (guitar); plus special guest Thomas Buckner (baritone voice).
---
For more information, please visit interpretations.info