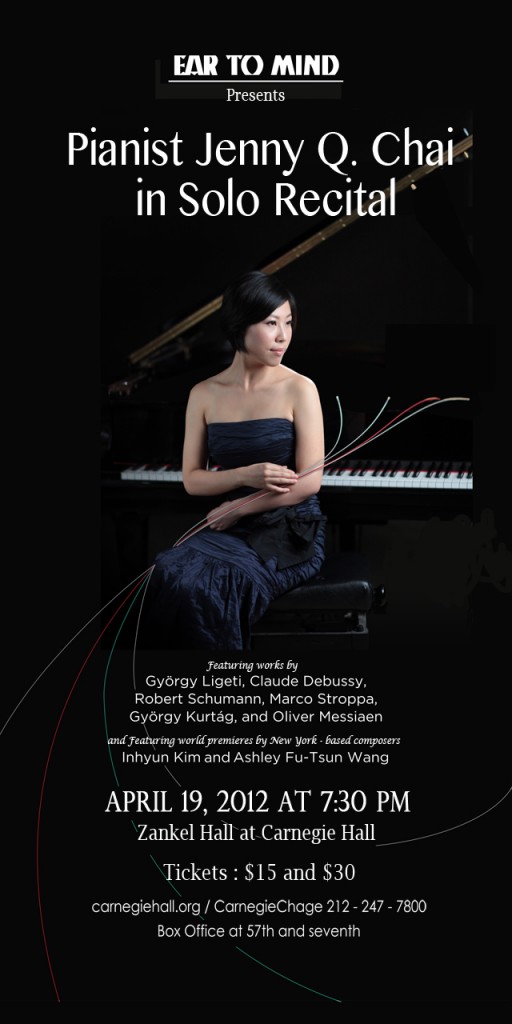 Performing works by Inhyun Kim, Ashley Fu-Tsun Wang, Marco Stroppa, Kurtag, Messaien, Ligeti, Debussy, and Schumann, pianist Jenny Q. Chai makes her Carnegie Hall debut at Zankel Hall on Thursday, April 19 at 7:30pm. Tickets are $30 ($15 for students) and are available at www.carnegiehall.org, at the Carnegie Hall Box office at 57th street and 7th avenue in New York City (which is also the location of the venue), or by calling 212 247 7800.
This concert, featuring two world premieres and one US premiere, is being presented by Ear to Mind (www.eartomind.com), a New York City based arts organization which strives to present innovative programs that allow the public to experience contemporary music in non-traditional contexts, as well as by producing publications that allow the public to gain intimate knowledge of the contemporary music field, simultaneously providing composers and performers with a platform for their work.
The Program includes:
Inhyun Kim – Parallel Lines (World premiere)
Ashley Fu-Tsun Wang – "Current", a newly commissioned work from the Yvar Mikhashoff Trust's 2011 Pianist/Composer Commissioning Project (World premiere)
Marco Stroppa – "Innige Cavatina" from Miniature Estrose by (US premiere)
Claude Debussy – Études No.3 " pour les quartes" and No.6 "pour les huit doigts"
György Ligeti – Études Book I No. 1 "Désordre" and No. 2 "Cordes à vide"
Olivier Messiaen – Cantéyodjayâ
György Kurtág – "Quiet talk with the Devil" and "Les Adieux" from Jatekok
Robert Schumann – Kreisleriana
Hailed as a "brilliant and fearless young performer," Jenny Q Chai is an active pianist specializing in contemporary music. Recipient of the Yvar Mikhashoff Trust's 2011 Pianist/Composer Commissioning Project, first prize winner of the Keys to the Future Contemporary Solo Piano Festival, and recipient of the DAAD Arts and Performance award in 2010, Chai has premiered, most notably, Life Sketches by Nils Vigeland, Exercise in Deism by John Slover, Intimate Rejection by Ashley Fu-Tsun Wang, and Blue Inscription by Scott Wollschleger. Chai has also premiered "Marriage (Mile 58) Section F" from The Road by Frederick Rzewski in Ghent, Belgium, where she was given the Logos Award for the best performance of 2008. Recently, Chai had the privilege of introducing the concept of prepared piano to a Chinese audience, with the world premiere of Mallet Dance by John Slover, in Shanghai Concert Hall.
Of her performance at the Keys to the Future Festival, Zachary Woolfe wrote in the New York Times: "Jenny Q Chai opened the concert playing two of Ligeti's Études with rich tone and rhythmic clarity; especially strong was her "Cordes à vide."
Chai is currently working on her thesis on Marco Stroppa with contemporary pianist Marilyn Nonken for her Doctor of Musical Arts degree at Manhattan School of Music. Chai has also studied at the Shanghai Music Conservatory, at Curtis Institute of Music with Seymour Lipkin, and has received two degrees from the Manhattan School of Music where she studied with Solomon Mikowsky, Nils Vigeland, and Anthony de Mare. In Germany, she studied with Pierre-Laurent Aimard, and performed in Ensemble 20/21, directed by David Smeyers, as well as the group Musikfabrik. In what is already an illustrious career, Chai's performances have been covered in major media throughout the U.S., China, and Europe, including Time Out New York, Shanghai Culture, and Cologne Daily News, and her performances of contemporary music have been broadcast in Italy, Germany, China, and the U.S. Her talents have been showcased on recordings with Ensemble 20/21 on the Deutschlandfunk label (performing music by Hanns Eisler) and as solo pianist/vocalist on ArpaViva's New York Love Songs.
For Chai, near-total immersion in the contemporary music world has only enhanced her appreciation of the classical repertoire. "I feel a sense of contentment programming creative concerts, mixing and matching old and new works, so as to highlight what is most special in each piece. After all, nothing comes from nothing, and new music is very much connected to that which came before." Now splitting her time between the U.S. and China, Chai co-directs the New York City-based contemporary music organization Ear to Mind, and is founder of FaceArt Music Association in Shanghai. In an Ear to Mind performance in April 2011, Chai premiered three new works, including Five Pieces (for Jenny Q Chai) by Nils Vigeland.
Ashley Fu-Tsun Wang is a Taiwanese composer whose work seeks to capture the individual beauty of the fleeting moment, revealing complexity within simplicity. Her music has been performed throughout North America, Europe, and Asia. She has collaborated with Brooklyn Rider String Quartet, MIVOS Quartet, members of Eighth Blackbird, pianists Eric Huebner, Vicky Chow, Jenny Q. Chai, conductors David Gilbert, Brad Lubman, Paul Chiang, and visual artists Alice Grassi and Takeshi Moro. Her music has been broadcast on WNYC and Taukay Edizioni Musicali, and has been released on the ArpaViva label. Ms. Wang is the winner of the Yvar Mikhashoff Trust for New Music competition and the Look and Listen Festival Composition Prize, and the recipient of grants from the American Composers Forum, the American Music Center, and the ASCAP Foundation. Ms. Wang has been a fellow at the MusicX Festival, Bowdoin International Music Festival, June in Buffalo, Pacific Music Festival, Bang on a Can Music Festival, an associate artist at the Atlantic Center for the Arts, and has worked with Robert Beaser, Matthias Pintscher, David Felder, David Lang, Michael Gordon, Julia Wolfe, and Lera Auerbach. She has recently studied with Nils Vigeland, Reynold Tharp, and Stephen Taylor.
As a frequent collaborator with choreographers, visual artists, and filmmakers, composer Inhyun Kim challenges her audience think in new and unconventional ways about music as a performing art. Ms. Kim has been commissioned by organizations such as White Wave Dance Company, The Actor's Theatre, Hudson Saxophone Quartet and Brooklyn Independent television, and her works have been performed at the DUMBO dance festival, Wave Rising series, the Joyce Soho theatre, What We Want!!!, The Tompkins Square gallery at the New York Public Library, Dance New Amsterdam, Ceres Gallery as part of 2008 Make Music NY, the Museum of Modern Arthur as part of the 12th annual Art Under the Bridge festival, Galapagos Art Space, and Symphony Space. A graduate of the Manhattan School of Music, where she received her Bachelor's and Master's Music degrees and studied with Julia Wolfe, Susan Botti and Reiko Fueting. Ms. Kim's music can be heard on her CD "Music =", released in 2010 by Carrier Records. Ms. Kim is a recipient of the Jordan Berk Memorial Prize in composition, Manhattan School of Music president's award, and was recently awarded a mentorship with composer Vivian Fung, as part of NYFA's Mentoring program for Immigrant Artists. Ms. Kim is co-director of the contemporary music nonprofit organization, Ear To Mind.
Composer, researcher and professor, Marco Stroppa was born in Verona, Italy, and has composed for both acoustical instruments and new media. His repertoire includes works for concerts, one music drama, two radio operas and various special projects. He often groups several works around large cycles exploring specific compositional projects, such as a series of concertos for instrument and a spatialized orchestra or ensemble inspired by poems of W.B. Yeats, a book of Miniature Estrose, seven pieces for solo piano, a cycle of works for solo instrument and chamber electronic music inspired by poems of e. e. cummings, and two string quartets. He has worked as a composer and researcher, teacher at IRCAM, and he founded the composition and computer music workshop at the International Bartók Festival in Szombathély, Hungary. He taught composition at the Conservatoire National Supérieur de Musique in Paris and Lyon and since 1999 he has been full professor of composition and computer music at the University of Music and Performing Arts in Stuttgart. He studied at the Conservatories of Verona, Milan and Venice and at the Massachusetts Institute of Technology as the recipient of a Fulbright Scholarship.
This concert is sponsored by The Gurrand Group and FaceArt Music InterNations.