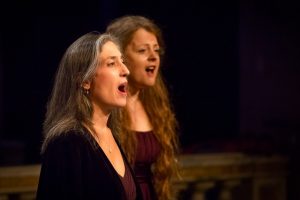 Deborah Carmichael and Kinga Cserjési present the Libero Canto approach to New York: a way of teaching singing that leads to freedom and naturalness of vocal expression. It is not a method or specialized technique, rather a process and attitude toward singing and music making.
A central idea of Libero Canto is that the release of excess physical tension and force allows the body to become genuinely responsive to the singer's musical feeling and imagination, thereby giving singing the spontaneity and vitality of true expression.
A three-day workshop will be held from February 15-17, 2019 in New York City. For more information and how to apply, please click here.