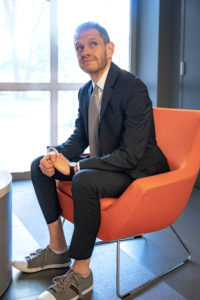 Pianist-composer Jeremy Siskind is "a genuine visionary" (Indianapolis Star) who "seems to defy all boundaries" (JazzInk) with music "rich in texture and nuance" (Downbeat). A top finisher in several national and international jazz piano competitions, Siskind is a two-time laureate of the American Pianists Association and the winner of the Nottingham International Jazz Piano Competition. Since making his professional debut juxtaposing Debussy's Etudes with jazz standards at Carnegie Hall's Weill Hall, Siskind has established himself as one of the nation's most innovative and virtuosic modern pianists.
Siskind's multifaceted career often finds him combining musical styles and breaking aesthetic norms. As the leader of "The Housewarming Project," Siskind has not only created "a shining example of chamber jazz" (Downbeat) whose albums often land on critics' "best of the year" lists. He's also established himself as a pioneer of the in-home concert movement by presenting well over 100 in-home concerts in 25 states. On an upcoming duo album, Impressions of Debussy Siskind explores Debussy's Preludes through improvisation with saxophonist Andrew Rathbun. Other projects include writing concert arrangements for rising star soprano Julia Bullock, composing the theme song for the 2017 Obie Awards, and serving as musical director for noted comediennes Lea DeLaria and Sandra Bernhard.    Siskind's current project,  9 Perpetual Motion Etudes, is a major new suite for piano, combining jazz harmony with complex pianistic textures, evoking works by Kapustin, Gershwin, Gismonti, Hersch, and Mehldau.
A highly-respected educator, Siskind has written 13 publications with Hal Leonard, including the landmark instructional books Jazz Band Pianist and First Lessons in Piano Improv. He currently teaches at California's Fullerton College, chairs the National Conference for Keyboard Pedagogy's "Creativity Track," and spreads peace through music in places like Lebanon, Tunisia, and Thailand with the non-profit organization, Jazz Education Abroad. Jeremy Siskind is a Yamaha artist.
---