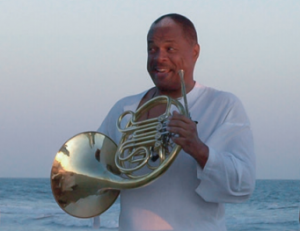 Los Angeles-based French hornist Robert Lee "Bob" Watt has released his solo recording debut I Play French Horn. Credited to Bob Watt and Friends, I Play French Horn is now available on CD and digitally through the MSR Classics label through all major online music retailers.
Produced, and largely accompanied and arranged by pianist and composer Todd Cochran, the album features multiple of Cochran's original works, as well as arrangements of Maurice Ravel ("Forlane"), J.S. Bach ("Lord, I Cry to Thee"), Dave Brubeck ("Blue Rondo à la Turk"), and striking takes on the evergreen "Amazing Grace", and the African-American spiritual, "Steal Away". Also included are two takes of the title work from Cochran and Watt's collaborative short film, Missing Miles, in honor of Watt's late friend Miles Davis.
In advanced praise, Atlanta Audio Club's Phil Music glows about Watt's "music world"; that in the album, one gets "a clear impression of [the French horn's] idiomatic sounds." He also notes that "Watt and Cochran do some of their best work together", calling it a "distinguished collaboration" and an "experience".
Finnish conductor and composer Esa-Pekka Salonen also glowed about the album: "I recently had the pleasure of hearing Bob Watt's newly recorded CD master. What a delightful collection of works, old and new, for horn in various contexts! This record covers a good chunk of the history of music (from Bach to present day), and everything is performed with gusto, great skill and beautiful tone. This is a different horn record, a very entertaining one, and deserves attention."
Many musical guests appear on the projects in the form strings, guitars, percussion, and vocals, with Cochran's "Laughter" and "Humor/Satire" both featuring cellist Fang Fang Xu. With a fusion of influences including classical, new music, and jazz, this project has a high art sensibility that holds it together. The late author and historian Paul Robeson, Jr. wrote the album's liner notes.
The sprawling musical influences come off naturally and authentically as the result of the kaleidoscopic nature of Watt's past. He notes: "As a symphony orchestra French horn player, I have performed in a wide range of large orchestral works, encompassing the entire spectrum of musical periods, as well as in television, motion picture scores, pop, R&B recordings and contemporary jazz. This varied exposure to the multitudes of musical styles and flavors has enriched both my life and my musical path."
---
Program:
Todd Cochran: Eternity and Love 4:21
Maurice Ravel:  Forlane (arr. Barry Finnerty) 5:18
Todd Cochran: Missing Miles [Abridged Film Version] 4:48
Johann Sebastian Bach: Lord, I Cry to Thee (arr. Todd Cochran) 4:16
John Newton: Amazing Grace (arr. Bob Watt and Todd Cochran) 2:41
Todd Cochran: Laughter 1:21
Todd Cochran: Humor/Satire 6:51
Traditional: Gullah Novella (arr. Bob Watt and Todd Cochran) 4:20
Dave Brubeck: Blue Rondo à la Turk (arr. Todd Cochran) 5:48
Traditional: Steal Away/How Great Thou Art (arr. Todd Cochran) 5:30
Todd Cochran: Missing Miles I. II. III. 14:53
---
For more information about Bob Watt and Todd Cochran, please visit both robertleewatt.com and toddcochran.com.